This is an archived article and the information in the article may be outdated. Please look at the time stamp on the story to see when it was last updated.
A major storm is forecast to bring heavy rain, snow and winds to Southern California this week as travelers gear up to hit the road for Thanksgiving.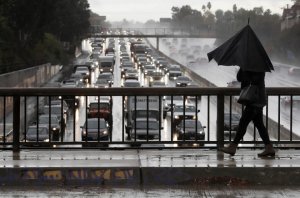 Precipitation could begin as early as Tuesday night, but the brunt of the storm isn't expected to drench the Southland until Wednesday — the day anticipated to be the worst for holiday travel.
The slow-moving storm
could tap into atmospheric river conditions, bringing widespread rain that will linger into Friday and Saturday, National Weather Service meteorologist Alex Tardy warned last week. Coastal and valley areas are expected to receive 1 to 2 inches of rain, while foothills and mountains may see up to 3 inches of rain, according to the weather service. Small hail and waterspouts are also possible. The heaviest rain is expected to hit Wednesday morning and afternoon, just as many travelers are heading to their Thanksgiving destinations — "the absolute worst time, of course," NWS meteorologist Kathy Hoxsie told the
Los Angeles Times
.
#Rain & mountain #snow are expected to impact #SoCal as a cold storm approaches the West Coast this #Thanksgiving week! 1-2" of 💦 in csts/vlly areas, 1.5-3" 💦 in the ⛰plus 6-12" of ❄️in the ⛰ above 2,000 ft! Areas near the #Grapevine could see 3-6" of ❄️! #CAwx #LAweather pic.twitter.com/QnwbVre4mE

— NWS Los Angeles (@NWSLosAngeles) November 24, 2019
Those traveling by car can expect see the
biggest traffic delays
in the Los Angeles area from 5 to 7 p.m. Wednesday, according to AAA. The rain and snow will likely create more of a mess on local freeways, with forecasters already warning that the storm could result in road closures and major traffic backups. In particular, the weather service said snow and ice are possible on the 5 Freeway near the Grapevine from Wednesday afternoon to Friday. About 3 to 6 inches of snow are expected in the Grapevine area. Potential snow could also impact the 14 Freeway in the Antelope Valley. Snow levels are expected to drop down to 2,500 to 4,000 feet between Wednesday afternoon and Thursday, and could plummet to 2,000 feet by Friday, according to the weather service. Powerful winds will likely remain an issue in parts of the Southland through Thanksgiving, Tardy said.
Gusts of up to 60 mph
were recorded Monday in the Sycamore Canyon area of the Ventura County mountains, while the Antelope Valley saw winds in excess of 50 mph. Widespread winds of 45 mph are anticipated in the San Fernando, Santa Clarita and Ventura valleys Monday evening into the overnight hours, forecasters said. By Wednesday, it will be time to break out those coats and sweaters, as temperatures drop into the mid-50s in the L.A. area, about 15 degrees below what area usually experiences around Thanksgiving, according to the L.A. Times. "It's going to feel like winter," NWS meteorologist David Sweet told the newspaper. "People are going to need to get their winter coats out and probably spend Thanksgiving day indoors in front of the fire."