This is an archived article and the information in the article may be outdated. Please look at the time stamp on the story to see when it was last updated.
Multiple lanes on the 5 Freeway were shut down for several hours in the San Fernando Valley after rain caused widespread flooding on the roadway early Wednesday afternoon, according to the California Highway Patrol.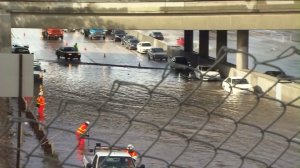 The impacted stretch of roadway was in the areas of Sheldon Street and Lankershim Boulevard in Sun Valley, CHP's incident log stated shortly after noon.
Initially, all lanes except for the HOV lane on the north and southbound sides of the 5 were shut down on the 5, Monica Posada with CHP said. The agency issued a SigAlert about 1 p.m.
The No. 1 lane was reopened on both sides of the freeway shortly before 3 p.m., and the entire roadway was reopened a short time after that, according to Caltrans.
By the time the SigAlert went into effect, roughly 3 to 4 feet of water was flooding the Nos. 4 and 5 lanes of the southbound roadway at Sheldon, according to the log; approximately 4 feet of water covered the Nos. 3 and 4 northbound lanes at Lankershim at the time.
The rain also caused flooding on the 5 Freeway's on- and off-ramps at Sheldon Street, CHP stated. Approximately 3 feet of water covered both ramps. Both had to be temporarily shut down as a result.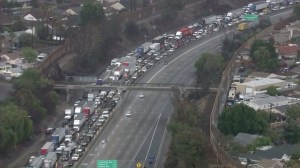 Earlier, CHP advised that nearly all of the lanes on the roadway were flooded, causing a "major traffic back up" in the area. Several vehicles were also reported to be stuck in the floodwater.
CHP officials told KTLA the flooding was caused by a large quantity of rain falling onto the freeway in a short amount of time, clogging the drains.
Caltrans crews worked along the side of the road to unclog the drains and clear the water.
KTLA's Jennifer Thang contributed to this story. 
NB 5 at Lankershim #ElNino @abc7 @CBSLA @NBCLA @KTLAnewsdesk @FOXLA @LANow @CaltransHQ working hard to clear drains pic.twitter.com/IuBxBXWrJo

— 🃏 (@Luevano1) January 6, 2016