This is an archived article and the information in the article may be outdated. Please look at the time stamp on the story to see when it was last updated.
A late-summer storm brought record rainfall to portions of drought-stricken Southern California on Tuesday, wreaking havoc on local freeways and roads, leaving thousands without power, and prompting the evacuation of 100 residents at one residential building.
More than two inches of rain was recorded in downtown Los Angeles, making it the third-wettest September storm since the 1870s, climatologist Bill Patzert with the Jet Propulsion Laboratory told the Los Angeles Times.
Within several hours of the rain starting, dozens of collisions had been reported in the region, according to the California Highway Patrol's website.
Multiple SigAlerts were issued as a result of crashes that occurred on rain-slicked roadways ahead of the rush-hour commute.
One of the worst incidents overnight was in the Pasadena area on the westbound 210 Freeway transition road at the 134 Freeway, where a McDonald's semi-trailer jack-knifed and overturned, blocking the roadway, video from the scene showed.
The SigAlert went into effect shortly before 5 a.m., and the roadway did not reopen till around 1 p.m.
The entire 710 Freeway in Bell was shut down at Avenue during the morning commute as a result of flooding on the roadway, according to CHP.
Traffic was backed up, and photos tweeted by Caltrans showed that cars appeared to be turning around on one side of the freeway to try and navigate away from the massive jam.
All southbound lanes on the 710 were reopened around 10:30 a.m., a separate tweet from Caltrans stated. However, the northbound lanes remained closed as of 11:30 a.m., and it was not immediately known when they would be open to motorists.
The rain was also responsible for flooding an assisted living facility in the 800 block of West Knoll Drive in West Hollywood, according to the Los Angeles County Sheriff's Department.
More than 100 people have been evacuated, including four who were taken to a hospital, a Sheriff's Department's spokesperson stated.
The flooding was caused by an "extensive roof leak," which was under repair from a previous incident in July, authorities said.
Evacuated residents were being taken to a shelter or community for the time being, according to the sheriff's spokesperson.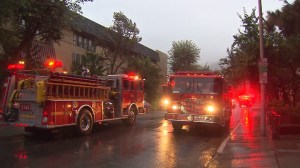 Meanwhile, more than 10,000 Southern California Edison and Department of Water and Power customers were without power overnight as a result of service outages, almost all of which were deemed weather-related.
The largest Southern California Edison outage was in an unincorporated part of Ventura County in the Ojai area, where roughly 3,200 customers were without electricity at one point, the utility reported.
In Montebello, more than 2,500 customers were without electricity, while more than 1,100 residents were impacted in Long Beach, according to the utility.
The largest DWP outage was in Van Nuys, where nearly 2,000 people were without power due to heavy rain and winds. At least 1,600 customers in the historic South-Central neighborhood of South LA. were experiencing an interruption in service, and more than 1,300 DWP customers were without electricity in Glassell Park and the Del Rey area.
Crews were working to restore power, and outages were expected to last for some 10 hours from the time they began before service was restored, DWP stated in a release.
The storm was the result of a developing low pressure system off of Northern California combining with remnant moisture from former Hurricane Linda, the National Weather Service reported.
It dumped one-half inch to two inches of rain in L.A. County, with the highest totals recorded in downtown Los Angeles, LAX and Westwood, according to the National Weather Service.
In general, higher rainfall amounts were expected to be focused from the county southward. The weather service predicted that other areas would receive less than a quarter-inch of rain.
Since many Southland areas have seen little- to- no rainfall in the past two months, forecasters warned that the storm could lead to "extra slippery" driving conditions.
The rainfall could also cause some minor urban roadway flooding across the county, something that may be worsened by clogged storm drains and culverts, the weather service warned.
A flood advisory was in effect in L.A. County and the extreme eastern part of Ventura County as rain soaked the region.
In addition to precipitation, some interior sections were also expected to be hit by southwest winds, with gusts as high as 50 mph in the Antelope Valley.
Periods of rain would last through Wednesday, the weather service reported.
KTLA's Alberto Mendez contributed to this story.
More Video: