This is an archived article and the information in the article may be outdated. Please look at the time stamp on the story to see when it was last updated.
A storm system moved into Southern California on Saturday night, bringing light-to-moderate rain that continued to soak the area on the following day.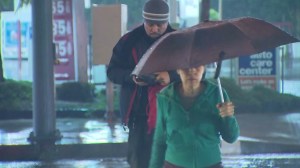 Lingering showers were forecast for Sunday evening, mainly over Los Angeles County, the National Weather Service said.
The low-pressure system will likely drop between a quarter of an inch and 1 inch of rain from Santa Barbara County to L.A. County, weather officials said, with the exception of lower parts of the Antelope Valley. Some areas may see as much as 1.5 inches of precipitation.
Snow levels are generally expected to remain above 7,500 feet, with a few inches of snowfall possible above 8,000 feet.
Amid slick road conditions, the California Highway Patrol said it responded to 42 percent more collisions in L.A. County between 3 p.m. and 7 p.m. Saturday compared to the same time period last weekend.