This is an archived article and the information in the article may be outdated. Please look at the time stamp on the story to see when it was last updated.
Periods of heavy rain prompted road closures across Southern California on Monday, when two storms were expected to drop between 0.5 to 1 inch of precipitation on the coasts and valleys. A
flash flood warning
issued for some Woolsey Fire burn areas—including Thousand Oaks, Agoura Hills and Oak Park—was lifted at 12:15 p.m. Showers are likely to continue off and on until Wednesday morning, when drier weather should move into the region, according to the Weather Service.
Road Closures
Caltrans was forced to shut down Pacific Coast Highway from Broad Beach Road in Malibu to Las Posas Road in Ventura County Monday morning due to debris in the roadway. Motorists were asked to use alternate routes and be cautious of possible mudslides. The roadway was opened about 1:45 p.m.
Caltrans
said as of 1:50 p.m., the following routes are closed until further notice:
February 4, 2019
Trabuco Canyon Road in Rancho Santa Margarita was closed Monday afternoon due to a mass amount of mud and debris flowing down canyon hillsides there, Orange County officials said. It was unclear when it would reopen. Aerial video showed the powerful flow was knocking down berms and inundating the area. Law enforcement was on scene.
Scene right now at #TrabucoCanyon Rd at Trabuco Creek due to flash flood downstream of #HolyFire burn area. Road closed until further notice. Massive force to move our k-rail barriers-each one weighs approx 8K pounds @ocregister @CBSLA @NBCLA @KTLA @ABC7 @FOXLA @KNX1070 @KFIAM640 pic.twitter.com/IW2CJGTRuh

— OC Public Works (@OCpublicworks) February 5, 2019
Also on Monday, Highway 150 was shut down through Ojai after a rockslide involving large boulders blocked the road. Motorist would have to reroute through Santa Paula to access northern Ojai, officials said.
State Route 150 is closed from Reeves Road in #Ojai to south of Dennison Park, due to a slide with large boulders. Rte 150 might open Tuesday. Until then, access to Upper Ojai must be made through #SantaPaula. pic.twitter.com/dsJPCPPdUX

— Caltrans District 7 (@CaltransDist7) February 5, 2019
A mudslide Sunday night prompted officials to close Topanga Canyon Boulevard from Grandview Drive to Pacific Coast Highway. It reopened Sunday afternoon, but authorities urged drivers to be cautious while using it.
UPDATE: @CaltransDist7 uses combination of K-rail and rock-fall fence – galvanized-steel mesh – to stabilize hillside on Topanga Cyn Blvd (SR-27). it's open but drive carefully as rains continue. pic.twitter.com/tiigZhrum0

— Caltrans District 7 (@CaltransDist7) February 5, 2019
A construction crew working on Yerba Buena Road Saturday was left without a front-loader after a hole in the street opened up, dropping the vehicle several feet down.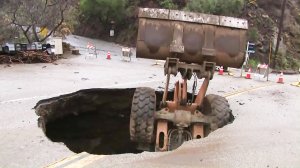 The man working the front-loader was not inside when it crashed through the street.
Snow levels dropping
Temperatures were forecast to drop below normal early this week leading to plummeting snow levels. Weather officials expected snow levels, which are currently at 5,000 to 6,000 feet, to drop to 3,500 to 4,500 feet by Tuesday morning. Snow levels may be as low as 2,500 feet by Wednesday, according to the Weather Service.