This is an archived article and the information in the article may be outdated. Please look at the time stamp on the story to see when it was last updated.
As the Sierra Nevada continues to get pounded by snow, light rain is falling intermittently in Southern California Thursday, and a larger storm will bring heavier precipitation to much of the state over the weekend.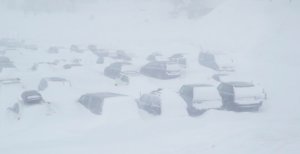 The precipitation began Wednesday evening, and about three-quarters of an inch fell in Redondo Beach through 4 a.m. Thursday, marking the highest rainfall amount in Los Angeles County. Most areas of the county saw less than half an inch, according to the National Weather Service.
Multiple crashes were reported on rain-slicked roadways.
Oxnard and Ventura both received around an inch of rain, while all weather stations in San Bernardino and Riverside counties got less than a half-inch.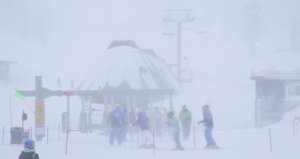 To the north, 3 to 5 inches of rain drenched San Luis Obispo County. Rocky Butte, in the mountains east of San Simeon, saw more than 8 inches.
The rain could continue through early Friday morning.
A wind advisory is in place for the mountains of Riverside and San Bernardino counties, as well as Apple and Lucerne valleys, through 4 a.m. Friday. Gusts of up to 55 mph could be seen in the Antelope Valley.
On Saturday, a Pacific storm system will arrive from the south in an "atmospheric river," bringing heavy rainfall at some point through Monday. Flash flooding and strong winds are possible.
The storm will bring one of the heaviest "rain events" in years to the Sierra Nevada, the weather service said. That will result in more than a foot of rain at lower elevations, and several feet of snow above 7,000 feet.
"It's a once-in-10-year event," Zach Tolby, a meteorologist with the National Weather Service in Reno, told the Los Angeles Times. "It's the strongest storm we've seen in a long time, the kind of setup we look for to get significant flooding."
The area from Mammoth Mountain to Susanville could receive 36 straight hours of heavy rain during this weekend's storm, he said.
On Wednesday evening, Mammoth Mountain reported that the resort had already received between 30 and 52 inches of snow.
In a statement, a spokesman for the resort wrote Wednesday afternoon: "Can't believe we're typing this, and long-range forecasts should always be taken with a grain of salt, but snow totals over the next 10 days approaching 20 feet are possible."