This is an archived article and the information in the article may be outdated. Please look at the time stamp on the story to see when it was last updated.
LOS ANGELES (KTLA) — Hundreds of parents and school workers are kicking off a week of rallies Tuesday in support of "Breakfast in the Classroom."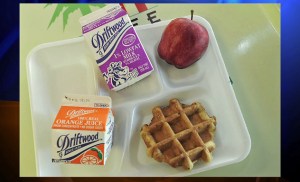 It's a federally-funded program that provides students with a healthy meal before their first lesson.
The program currently serves breakfast to nearly 200,000 students at 279 schools each day.
It was introduced this school year, with the goal of expanding it to all L.A. Unified School District schools in three years.
Supporters say that the program is necessary because over 553,000 students qualify for a free or reduced-priced breakfast.
However, only 29 percent of students participated in the traditional cafeteria breakfast program.
They also argue that the program has saved thousands of cafeteria worker jobs by making the district eligible for federal funds.
If it's eliminated, they say, nearly 1,000 cafeteria jobs would be cut immediately.
But the United Teachers of Los Angeles has proved to be less than thrilled about the program. The union says eating in the classroom is messy and takes up valuable learning time.
Superintendent John Deasy has asked the LASUD School Board to reaffirm support for the program.
Deasy has been a vocal supporter of the program, saying children "have a fundamental right to a healthy meal prior to beginning their instructional day."
He also says the program has brought financial benefits to the district, saving 832 food service positions in 2012-13.
According to Deasy, the program is expected to generate a net income of $6 million for the district this year, which goes into the general fund.
The board is set to vote on the future of Breakfast in the Classroom program on May 14.