This is an archived article and the information in the article may be outdated. Please look at the time stamp on the story to see when it was last updated.
After anti-gay protesters descended on a South Los Angeles high school that recently touted its gender-neutral bathrooms, the organizer of a rally in support of LGBTQ students declared the campus a "no-hate zone" on Wednesday afternoon.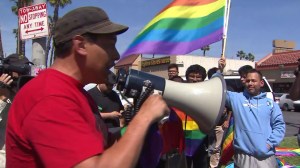 The initial protests occurred after classes Tuesday at Santee Education Complex, just south of downtown, and led to a fight that was caught on cellphone video.
In response, a political group called Union del Barrio called for a "rally to stop the hate" in defense of the school's gay and transgender community on campus, at 1921 S. Maple Ave. in the Historic South-Central neighborhood. After class Wednesday, a few dozen students and adults gathered, cheering, some holding rainbow flags.
A speaker from Union del Barrio declared the school a "no-hate zone."
"We're saying no to hate, we're saying no to bigotry, and we're saying yes to community," said the man, who wielded a megaphone. "This community fought hard to make sure we have an inclusive community."
On Tuesday, video of the scene outside the school showed a group of men across from campus, one holding a sign that said "Homo Sex Is Sin" in giant yellow letters.
"Burn in hell, Santee," one man can be heard saying on video recorded by a student.
It's not clear how much time passes until there's a scuffle involving dozens of people that appears to be broken up by Los Angeles school police, the video shows.
"A group of extreme right-wing homophobic men showed up in front of the South Central LA campus to protest the school's recent decision to open a gender-neutral bathroom," read a Facebook invitation for Wednesday's rally. "As soon as the students exited the campus, the group began to yell homophobic slurs at the students; telling them that they were 'going to hell' and called the school's principal a 'f*ggot lover' and "pedophile.'"
The protesters planned to return Wednesday, according to the rally invitation, and LGBTQ student supporters were called to be there to respond.
On Wednesday morning, as multiple police officers patrolled outside the campus, several students expressed frustration about Tuesday's events.
"There was a riot here because of the gender-neutral bathroom that we have," student Sasha Phillips told KTLA. "It's just a bathroom. I mean, people pee."
The school's principal, Martin Gomez, made a statement, saying the school was proud of its "trailblazers" who campaigned for the new restroom.
"Yesterday, a small group of adults unsuccessfully attempted to discredit the brave actions of our students by protesting against the school's recently approved gender-neutral restrooms," Gomez said. "Above all, we want to ensure the safety of our students despite outside factors and influencers who want to disrupt instruction and the well-being of our students."
The school was working to avoid further altercations and planned to have extra police officers on campus, he said.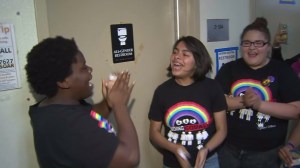 Last week, students in the school's Gay Straight Alliance celebrated the installation of what was described in a news release as the first multistall gender-neutral restroom in Los Angeles Unified School District.
The 15-stall bathroom's new sign reads "All-Gender Restroom." It used to be a girls' restroom.
The alliance on April 14 held a news conference to announce the success of its effort to bring about the change in restroom signage. The "It's Just a Toilet" campaign generated more than 700 signatures, alliance members said.
On Wednesday, one of the alliance members at the rally said the celebration and the ensuing protest have felt like an "emotional roller coaster."
"We're still kids. … We're just trying to make people on our campus feel comfortable," said Kween Robinson, a 17-year-old junior. "They're not in our shoes, so how could they possibly come and judge? … They don't know what we're going through on a daily basis."
"I'm just trying to get through high school," she said.
She encouraged others to fight back against discrimination and oppression.
The 1,800-student school is part of the nonprofit Partnership for Los Angeles Schools, a group of 17 LAUSD campuses that were set up for reforms beginning in 2008 under then-Mayor Antonio Villaraigosa.
A spokeswoman for the partnership on Wednesday told KTLA that, despite reports to the contrary, no one was arrested in Tuesday's protest and fight.