This is an archived article and the information in the article may be outdated. Please look at the time stamp on the story to see when it was last updated.
The owner of the new Los Angeles Rams joined Inglewood officials Friday to celebrate a homecoming — the team's return from St. Louis.
Team owner Stan Kroenke and Inglewood officials were preceded on stage at The Forum by a dancing costumed Rams mascot, and were greeted by cheers from fans.
A video played at the beginning of the 40-minute event included lyrics from singer Skylar Grey: "I'm coming home … let the rain wash away all the pain of yesterday. … I know my kingdom awaits, and they've forgiven my mistakes."
Inglewood Mayor James T. Butts welcomed Rams fans and news media at the event, saying he had known his "very good friend" Kroenke for 2 1/2 years.
"I want to welcome you to the beautiful city of Inglewood, California, the new home — and hopefully final home — of the Los Angeles Rams," Inglewood Mayor James T. Butts said Friday. "Now we will be the city of champions once again."
Kroenke said the team needed to find "alternatives" to its home in the Midwest and knew the NFL wanted to return to L.A. after a two-decade absence from the nation's second-largest media market.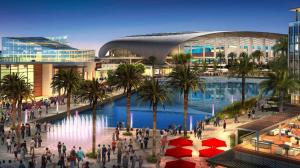 The billionaire was familiar with Inglewood and was happy to be in the city, he said.
"This was pretty amazing to a guy like me, to see something sitting here like this — 300 acres. That's bigger than Century City," Kroenke said. "You can do things here, as a developer like me — you can do scale, you can do things that are exciting, and you can combine it with sports."
Butts said Inglewood offered the largest contiguous block of open land in Southern California, across from The Forum.
The team is expected to begin playing in its planned 80,000-seat stadium at the site of the closed Hollywood Park race track in 2019.
The team is likely to play at the Los Angeles Memorial Coliseum beginning in the 2016 season.
"It's been a long road, but we made it," Kroenke said. "We're going to bring Super Bowls here."
The Los Angeles Rams pic.twitter.com/QubROj7DjU

— NFL (@NFL) January 15, 2016