This is an archived article and the information in the article may be outdated. Please look at the time stamp on the story to see when it was last updated.
A 24-year-old Winnetka man suspected of sexually assaulting a woman in the parking lot of a Valencia restaurant last month has been charged with rape, the Los Angeles County District Attorney's Office announced Friday.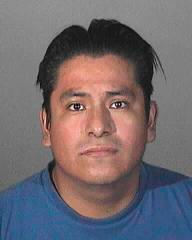 Etienne Juarez Rosas was arrested in Santa Clarita more than a week after he allegedly attacked a 25-year-old woman who was standing beside her vehicle outside a popular eatery in the 27500 block of Wayne Mills Place in Valencia on Oct. 25.
Rosas briefly spoke to the woman before forcing her into her vehicle and sexually assaulting her, the Los Angeles County Sheriff's Department stated in a news release.
The victim eventually stopped the assault when she hit the horn inside her vehicle, which caused Rosas to run away, the Sheriff's Department stated.
Rosas was located and arrested by Special Victims Bureau officers in Santa Clarita on Nov. 4.
He has been charged with one count each of kidnapping to commit rape and forcible rape and two counts of sexual penetration by foreign object, according to a news release from the DA's office.
Rosas was scheduled to be arraigned in Los Angeles County Superior Court Friday.
If convicted of the charges, Rosas faces a possible maximum sentence of 75 years to life in state prison.
Prosecutors were expected to request bail be for Rosas be set at $4 million, according to the news release.