This is an archived article and the information in the article may be outdated. Please look at the time stamp on the story to see when it was last updated.
One week before a safety report detailing the dangers drivers and pedestrians face on the Pacific Coast Highway was scheduled to be presented to the Malibu City Council, the 1990s rapper MC Supreme was identified Monday as the man killed in one of several crashes on the major thoroughfare over the weekend. 
Dwayne Coleman, also known as MC Supreme, was identified by multiple media reports and fans on social media as the man who died Saturday when a truck slammed into two parked vehicles – one of which Coleman was inside – on PCH in Malibu.
Coleman, 47, was best known for the 1990 single "Black in America," released on the compilation "We're All in the Same Gang," KTLA sister station PIX 11 reported.
His sister, Irene, also told City News Service that Coleman was dedicated to steering young people away from gang life.
Coleman was sitting in a parked Honda Civic Saturday when a full-size GMC Yukon pickup truck slammed into him.
Video of the scene showed Coleman suffered an apparent head wound and a female passenger held his hand while waiting for first responders to arrive.
Coleman died Saturday, and the truck's driver, 34-year-old Philip Torres, was arrested. Blood-alcohol tests were pending over the weekend.
Occupants in the second vehicle that was hit were uninjured.
The incident was one of four major collisions on PCH over the weekend, three of which occurred in Malibu, and two being fatal.
A 15-year-old girl died after being struck by a vehicle while walking across the PCH in Huntington Beach on Saturday, and two motorcyclists were airlifted with unknown injuries after two separate incidents on the popular roadway in Malibu on Sunday.
Saturday's incident also happened at the same intersection, PCH and Corral Canyon Road (map), where a woman died in a widely-publicized crash involving athlete Caitlyn Jenner, known as Bruce Jenner at the time.
One week from Monday, a safety study is scheduled to be presented to the Malibu City Council. It examines road conditions and crash patterns on the PCH in the area, as well as provides recommendations on how to improve safety, according to the city's website.
Nearly 1,000 collisions occurred in the area between Jan. 1, 2012 and Dec. 31, 2014, according to a draft version of the study published in May.
The draft and a separate presentation of the study published in February give differing numbers on the number of people injured, but both state nine people were killed in the collisions.
Issues at intersections that may have led to crashes include a lack of street lighting and low visibility of pedestrians, a lack of compliance with the Americans with Disabilities Act at sidewalks and crosswalks and traffic signal deficiencies, the February presentation stated.
Some non-intersection related issues included narrow shoulders or no shoulders, a lack of a buffer zone between moving and parked vehicles and deficiencies with the reflectivity of the roadway and signs.
Complex projects to fix roadways would require further feasibility studies, but about 25 percent of recommended projects were classified as maintenance projects and could be readily implemented, the May draft stated.
"These mostly involve restoring sites to their intended condition and can involve replacement of faded signs, trimming of vegetation or repair of damaged existing facilities. These can also include installation of new traffic signs, where justified," the draft stated.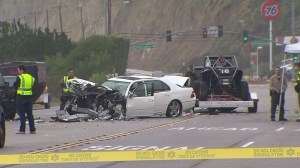 City officials and the California Association of Governments collaborated to conduct the study. A final report was scheduled to be presented to the City Council Monday, June 22.
Aside from safety issues on the roadways, speed may also be a factor in crashes, one local tow truck driver said.
"I see highway patrol and sheriff's out here all the time writing tickets, but it's not quite enough. People still drive 75, 80 mph up and down PCH. It's uncalled for," Scott McNichols said.
Actor Rob Lowe also spoke out.
"PCH's been a death trap for decades. No local care to address it. Sad and unacceptable," he tweeted Sunday.