This is an archived article and the information in the article may be outdated. Please look at the time stamp on the story to see when it was last updated.
Rapper YG was doing "fine" after being shot three times, the recording artist's manager said Friday.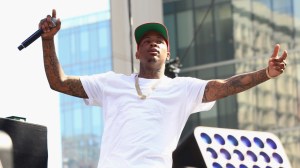 Police responded to a report that someone was shot in an alleyway outside 3450 Cahuenga Blvd. in Studio City (map) at about 1:45 a.m., Sgt. Ernie Fischer of the Los Angeles Police Department said.
When police arrived, they found blood and shell casings but the victim was gone, Fischer said.
Authorities then received a call from a local hospital about a victim arriving with multiple gunshot wounds, LAPD Officer Jack Richter said.
Apparently the victim was able to get himself to the hospital, Richter said.
Police did not confirm the identity of the victim but did say the person had been shot three times and was in stable condition.
YG's manager confirmed Friday that the rapper had been shot three times.
"YG is fine. Shot three times but nothing life-threatening," the manager said.
The Studio City address where the shooting took place is home to a "Poolside Entertainment" recording studio, according to California business records.
Neighbors said they had seen YG on the property, which consists of live-work lofts.
No one had been taken into custody following the shooting, Richter said.
KTLA's Crystal Garcia and Feven Kiflegiorgis contributed to this report.