This is an archived article and the information in the article may be outdated. Please look at the time stamp on the story to see when it was last updated.
A 37-year-old Huntington Beach real estate agent has been booked on suspicion of two counts of murder after two women were found dead in the brush in Newport Beach following a house fire in Westminster.
Christopher Ken Ireland, who was arrested Sunday, Jan. 1, is cooperating with the investigation, Westminster Police Department Cpl. Alan Aoki told KTLA on Tuesday morning.
No motive has been established in the deaths of the two women, who were found with trauma.
Orange County inmate records described Ireland as a Realtor; Aoki said Ireland's business was based in Mission Viejo.
A cached version of a web page for Realty One Group in Mission Viejo lists a Chris and Sam Ireland as agents who have a son together, and the photo displayed for Chris Ireland appears to be the same man shown in a booking photo released by Westminster police.
Christopher Ireland was acquainted with both victims but not related to either, police said.
Yolanda Holtrey, 59, was identified as one of the victims. The second victim, a friend of Holtrey, was identified Tuesday evening as Michelle Luke, 49, of Huntington Beach.
Holtrey's home — in the 5000 block of Northwestern Way — was ablaze when the Orange County Fire Authority was called to the residence about 5:30 a.m. Sunday. The fire was deemed suspicious and neither Holtrey nor her friend could be found.
Investigators believe the victims were killed at the home and their bodies were moved, Aoki said Monday.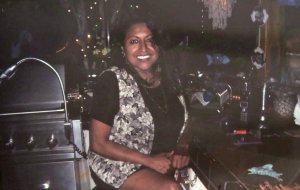 A relative of Holtrey who did not want to be identified said that Ireland had been at a party at the home with the victims on New Year's Eve, and that that occasion marked the first time Holtrey and Ireland had met.
Holtrey worked with Ireland's wife at a Stein Mart in Huntington Beach, the relative said. The relative believed the other victim also worked at the Stein Mart.
Evidence at the fire scene initially pointed to Ireland, and as the investigation progressed there were further indications he was the suspect, Aoki said.
A neighbor of Ireland described the suspect as a "good family man" who was often seen playing outside with his son.
The victims' bodies were found Monday in the brush off San Miguel Drive in Newport Beach, near the Newport Hills Shopping Center, a Westminster police commander told the Orange County Register.
Police said the crime appears to be an "isolated incident" and that no suspects are outstanding.
Numerous Christmas decorations remained in front of Holtrey's home Tuesday morning. Mourners had left candles and photos.