This is an archived article and the information in the article may be outdated. Please look at the time stamp on the story to see when it was last updated.
Kim Richards, a former star of the "Real Housewives of Beverly Hills," was arrested over the weekend after allegedly shoplifting more than $600 in goods from a Target store in Van Nuys, the Los Angeles Police Department said Monday.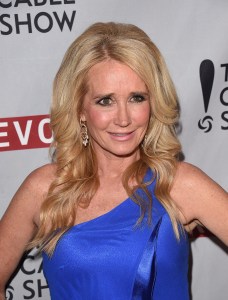 The theft occurred around 4 p.m. Sunday, according to Officer Mike Lopez with LAPD's Media Relations section.
Los Angeles County inmate records indicated that Richards, 50, had been placed under a "citizen arrest." Lopez explained that she had been arrested by security after allegedly stealing some 77 items at the store.
She was booked at LAPD's Valley Jail in Van Nuys at around 6:30 p.m. that night, inmate records showed.
The arrest marked the second time this year that Richards has been taken into custody. In April, the reality television star was arrested after alleged drunken behavior at the Beverly Hills Hotel.
She was also accused of kicking a Beverly Hills police officer after being taken to the station for booking.
Richards is a longtime actress who began her career in the 1970s, and most recently appeared in "Sharknado 3," according to her Internet Movie Database page.
She has been released from jail on $5,000 bail, inmate records showed.