This is an archived article and the information in the article may be outdated. Please look at the time stamp on the story to see when it was last updated.
REDLANDS, Calif. (KTLA) — A driver led L.A. County sheriff's deputies on a high-speed and reckless pursuit across the Inland Empire Wednesday night.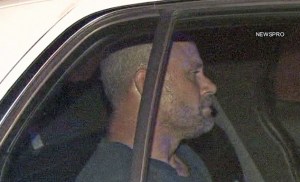 The man, driving a black Chevy Suburban, drove on the wrong side of the road, over train tracks and speed through numerous red lights during the hour-long chase.
The pursuit began in San Dimas at about 6 p.m. when deputies tried to pull over a reckless driver.
The driver took off, leading police down the freeway and along surface streets, with many close calls along the way.
At one point, he smashed through a railroad crossing in Colton. The gate was down because a Metrolink train was about a quarter of a mile away.
He later drove through a second railroad crossing. The suspect also sideswiped at least one parked car in Ontario.
The suspect finally ran out of gas on the 10 Freeway in San Bernardino.
At that point, the driver quickly got out of the SUV with his hands on his head and was immediately arrested.
Police said the dashboard of the Suburban was torn out. They also found two bottles of malt liquor and chocolate pudding inside the vehicle.