This is an archived article and the information in the article may be outdated. Please look at the time stamp on the story to see when it was last updated.
Lynsi Snyder, the 32-year-old reclusive billionaire owner of In-N-Out Burger, appeared at the grand opening of a new Anaheim location to honor of her late grandmother and co-founder Esther Snyder's birthday Wednesday.
Lynsi Snyder cut the ribbon herself, officially opening the 300th In-N-Out Burger restaurant, which is located on State College Boulevard and Ball Road (map).
Esther and Harry Snyder founded the company back in 1948 and ran it until their deaths.
Since inheriting the $1.1 billion company, Lynsi Snyder has kept a low profile.
"I just try to really keep the balance you know, being a mom and work and just keeping my priorities straight," Snyder said.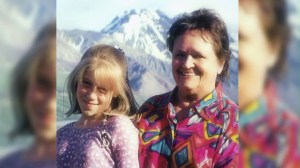 She admitted it was difficult to keep a family feel at 300 locations, but that hasn't seemed to hurt the franchise's popularity.
Prior to Wednesday's grand opening, several people were camped out in front of the restaurant hoping to get one of the first burgers to be served at the new location.
When asked if she would ever consider adding chicken to the menu made famous for burgers and fries, Snyder just laughed and said "no, I don't think so… sorry."
More video: