This is an archived article and the information in the article may be outdated. Please look at the time stamp on the story to see when it was last updated.
It's only April but it's going to feel like summer for the next couple of days, the National Weather Service said Monday.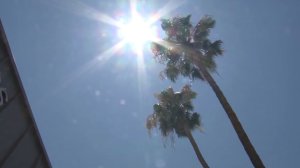 A high-pressure system is bringing potentially record-breaking heat across the Southland, where temperatures from Long Beach to Camarillo on Monday will be anywhere from 15 to 20 degrees above the seasonal average, said meteorologist Curt Kaplan.
Monday is expected to be the hottest day of the year so far across much of the Southland, which combined with the brief appearance of Santa Ana winds will raise the risk of brush fires through the afternoon, Kaplan said.
It could reach 90 degrees downtown and 94 degrees in Woodland Hills, Kaplan said.
Read the full story on LATimes.com.
How hot will it be tomorrow? Tuesday's highs will be 10-15 deg cooler for coastal areas, and 4-6 deg cooler in the valleys. Cooling will continue through Thursday. #CAwx #LAheat #SoCal pic.twitter.com/DKbKV6TKKm

— NWS Los Angeles (@NWSLosAngeles) April 9, 2018
UCLA reported a Max Temp of 91 degrees so far today. This breaks the record of 87 degrees set in 1968 . #laheat #cawx

— NWS Los Angeles (@NWSLosAngeles) April 9, 2018
Downtown LA (USC) Ca reported a Max Temp of 94 degrees so far today. This ties the record of 94 degrees set in 1890. #laheat #cawx

— NWS Los Angeles (@NWSLosAngeles) April 9, 2018
Camarillo Ca Airport reported a Max Temp of 89 degrees so far today. This breaks the record of 87 degrees set in 1968. #cawx #laheat

— NWS Los Angeles (@NWSLosAngeles) April 9, 2018
NWS Oxnard Ca reported a Max Temp of 88 degrees so far today. This ties the record of degrees 85 set in 1980. Santa Barbara Ca Airport reported a Max Temp of 81 degrees so far today. This ties/breaks the record of 81 degrees set in 1980. #laheat #cawx

— NWS Los Angeles (@NWSLosAngeles) April 9, 2018