This is an archived article and the information in the article may be outdated. Please look at the time stamp on the story to see when it was last updated.
A recycling yard fire sent flames towering over Atwater Village on Friday afternoon.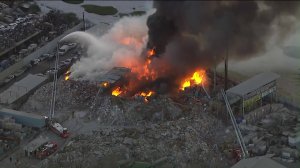 The fire was first reported just after 5:20 p.m. in the 4500 block of West Doran Street, according to Los Angeles Fire Department spokesman Nicholas Prange.
The fire is a largely industrial near the 134 and 5 freeway exchange, not far from Griffith Park.
The flames were initially described as burning within a 100-foot by 100-foot area, he said.
"79 firefighters are working to 'surround and drown' this fire with large hose streams, utilizing the aerial ladder for extra reach and penetration," Prange said in a written statement. "There are no reported victims or structures threatened."
Firefighters expected to continue working the fire well into the evening, "as firefighters continue to take a defensive posture," Prange added.
Residents and business owners nearby were advised to stay indoors and keep doors and window closed to keep smoke out. Those driving in the area were urged to turn of their air conditioners, or change setting so the cabin air is recirculated, rather than drawn in from outside.