This is an archived article and the information in the article may be outdated. Please look at the time stamp on the story to see when it was last updated.
Red flag fire warnings have been extended through Wednesday afternoon for Ventura County and mountain areas of Los Angeles County.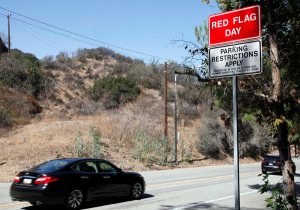 Dry easterly winds, coupled with low relative humidity, are expected to blow across the two counties through 3 p.m. Wednesday, the National Weather Service said.
Red flag warnings signal extreme wildland fire danger. The warnings were initially issued through Tuesday evening, but they were extended because of a dry air mass persisting across the region.
"If fire ignition occurs," the weather service said in a statement, "there could be rapid spread of wildfire that would lead to a threat of life and property."
Click here to read the full story on LATimes.com.