This is an archived article and the information in the article may be outdated. Please look at the time stamp on the story to see when it was last updated.
A red flag warning was issued for several parts of Los Angeles and Ventura counties on Monday due to moderate to strong Santa Ana winds and very low humidity, according to the National Weather Service.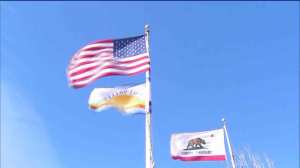 The warning went into effect at 3 a.m. and was scheduled to expire at 6 p.m. Wednesday.
Northeast winds gusting to 60 mph were expected in the mountains and between 40 and 50 mph across the coasts and valleys, forecasters said.
"Due to the combination of strong winds, very low relative humidity, and warm temperatures, widespread critical fire weather conditions are expected," according to the NWS.
The dry and windy conditions prompted the Los Angeles Fire Department to increase the number of fire personnel and equipment in areas with high brush fire danger, according to the LAFD News and Information website.
Strong winds battered flags and signs in Fontana early Monday morning, and high winds were also strong enough to blow over fences and rip tarps in Van Nuys, video showed.
A wind advisory was also in effect for much of L.A. and Ventura counties until noon Wednesday, forecasters said.