This is an archived article and the information in the article may be outdated. Please look at the time stamp on the story to see when it was last updated.
Firefighters and emergency personnel were on high alert Thursday as a combination of gusty winds and warm, dry weather conditions led to an extension of red flag warnings across much of Southern California.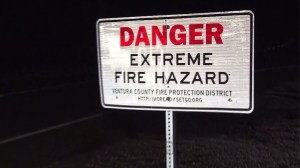 The wind, combined with low humidity levels, will result in dangerous fire conditions, according to the National Weather Service.
Forecasters called for wind gusts between 25 and 35 mph across typical wind prone coastal and valley areas through early Friday morning, while gusts could reach as high as 45 mph in the mountain areas.
The red flag warnings, which were expected to expire Thursday afternoon, were scheduled to be in effect until 10 a.m. Friday for much of Los Angeles and Ventura Counties, according to the NWS.
The extension came after a wind-driven brush fire broke out in Simi Valley Wednesday night. It burned about eight to 10 acres as of Thursday morning.
The Lilac Fire, as it was called, was fully contained as of 6 p.m. Thursday, Ventura County Fire Capt. Mike Lindbery tweeted.
Even as firefighters were getting the blaze under control, fire officials said they were bracing for the possibility of more wildfires because of weather conditions.
"We had an extreme fire rating today, which means the brush is still extremely volatile, so we can't become complacent in our preparations," Los Angeles Fire Department Cmdr. Joseph Castro said.
Should another brush fire break out, fire officials said they were prepared.
"We utilize a strike team concept where we pre-stage five engines under the battalion commander at strategically located fire stations in the city," Castro said.
The winds are expected to diminish gradually throughout the course of the day Friday.
KTLA's Anthony Kurzweil, Tracy Bloom and Steve Kuzj contributed to this report.