This is an archived article and the information in the article may be outdated. Please look at the time stamp on the story to see when it was last updated.
A disaster-relief group comprised of military veterans and medical professionals was preparing Saturday to send more volunteers to the Philippines, where recovery efforts continued in the aftermath of Super Typhoon Haiyan.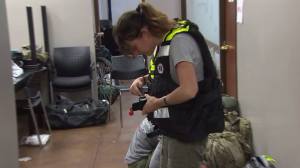 Several members of Team Rubicon were already in the Southeast Asian country, having departed from Los Angeles International Airport on Sunday and throughout the week, said Sam Kille, a spokesman for the group.
"We're very proud of the fact that we were one of the first nonprofits to hit the ground running on Veterans Day after the typhoon took place," he said, adding that the El Segundo-based organization planned to send a total of more than 100 volunteers to the Philippines.
"Right now we're operating out of the Tacloban area, but as needs change and evolve, we're nimble and we'll move to where we need to go," he said, referring to the coastal city that was leveled in the disaster.
The group's members, who utilize skills that they acquired while serving in various branches of the military, packed enough water and supplies to remain self-sufficient for more than a week.  Despite thorough preparations, however, they have been faced with harsh conditions and horrific scenes as they tend to the typhoon's victims.
Kille said, who is himself a Marine veteran, his colleagues "have been outside sleeping out in the rain and the mud. They've been seeing horrific wounds and infections. … They're doing medical triage, and there have been a lot of amputations due to those infections."
To donate to Team Rubicon, visit teamrubiconusa.org.