This is an archived article and the information in the article may be outdated. Please look at the time stamp on the story to see when it was last updated.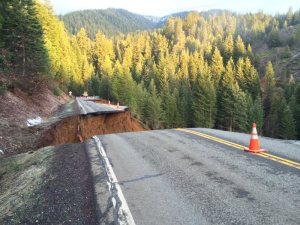 A remote mountain highway in Northern California completely collapsed this week, leaving a gaping hole where the pavement should be and temporarily requiring a 200-mile detour.
State Route 3 in Trinity County, about 30 miles northwest of Redding, was shut down late Monday after its "complete failure" while Caltrans worked to repair damage, according to a Facebook post from the agency's District 2.
The Trinity County Board of Supervisors declared a state of emergency Tuesday because the area's only north-south route was severed, Caltrans said Tuesday evening.
The only initially available detour around the closure was 200 miles long, and takes about five hours, Caltrans said.
By Wednesday afternoon, another option had opened to four-wheel drive vehicles after snow and trees were cleared from East Side/Trinity Mountain Road, which had been closed for winter. Officials warned there was "a lot of ice."
It could take up to eight weeks for traffic flow to be restored on State Route 3, with complete repair taking up to three months, Caltrans said.
Northern California has seen heavy rain amid an El Niño that was expected to drench Southern California instead. Storms battered the region when the highway failed, and Caltrans said soils were "very saturated" when the road gave way.
The site of the failure is between the towns of Trinity Center and Weaverville, near the Trinity Dam. The road runs through the Shasta-Trinity National Forest.
The highway was closed from 10 miles north of Weaverville to 18 miles south of Trinity Center.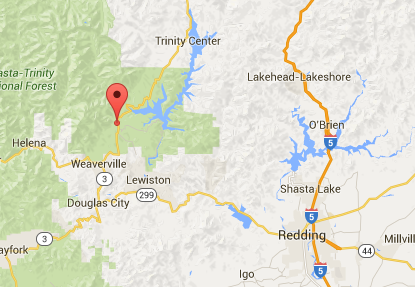 TRAFFIC ALERT: SR 3 in Trinity Center is CLOSED. No estimated time of reopening. pic.twitter.com/9fh4EOzNYH

— Caltrans District 2 (@CaltransD2) March 15, 2016