This is an archived article and the information in the article may be outdated. Please look at the time stamp on the story to see when it was last updated.
An old surfing battle is resurfacing in Newport Beach.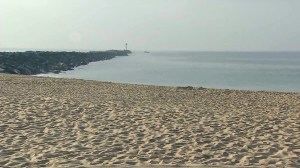 A city panel, the Blackball Working Group, will take the first step toward a possible review of surfing regulations at a public meeting Monday night. This has set off murmurings among surfers over one particular place: the Wedge.
A storied spot at the end of the Balboa Peninsula, where the west harbor jetty extends from shore, the Wedge has set the stage for world-famous waves that have brought thrills to generations of surfers and spectators.
Here, on occasion, large swells send surf crashing into the jetty. These waves bounce back toward the ocean, where they may meet, in a wedge shape, another oncoming swell. This creates massive walls of water reaching 20 to 30 feet — a dream for surfers — that break close to the shore.
Click here to read the full story on LATimes.com.