This is an archived article and the information in the article may be outdated. Please look at the time stamp on the story to see when it was last updated.
Rep. Henry Waxman, a high-profile Democrat who represents California's 33rd Congressional District, announced Thursday he will retire from Congress after serving 20 terms, according to a statement posted to his official website.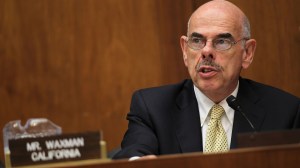 "In 1974, I announced my first campaign for Congress," the 74-year-old Waxman said in the statement. "Today, I am announcing that I have run my last campaign.  I will not seek reelection to the Congress and will leave after 40 years in office at the end of this year."
Waxman expressed frustration with the gridlock and partisanship of Congress in his statement, but stressed that it was not the reason he was retiring.
"The reason for my decision is simple," he said. "After 40 years in Congress, it's time for someone else to have the chance to make his or her mark, ideally someone who is young enough to make the long-term commitment that's required for real legislative success.  I still feel youthful and energetic, but I recognize if I want to experience a life outside of Congress, I need to start soon.  Public office is not the only way to serve, and I want to explore other avenues while I still can."
Waxman's notable legislative accomplishments include the 2010 Affordable Care Act, which he played a key role in writing and passing through the House, the Los Angeles Times reported.
The 33rd District includes Santa Monica, Malibu and Beverly Hills.
Former Los Angeles city councilwoman and Controller Wendy Greuel, who ran for mayor last year, confirmed to public radio station KPCC that she would run for the seat. Many other contenders were likely.
I am going to fight like Congressman Henry Waxman on issues important to our families. #CD33

— Wendy Greuel (@Wendy_Greuel) January 31, 2014