This is an archived article and the information in the article may be outdated. Please look at the time stamp on the story to see when it was last updated.
A repeat felon who was deported five times to Mexico was charged with murder Monday in the fatal shooting of woman who shot while walking with her father on a busy pier in San Francisco last week in what he described as an accident, CNN reported.
Juan Francisco Lopez-Sanchez was expected to be arraigned Tuesday.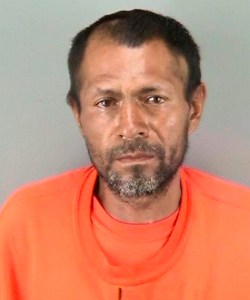 Lopez-Sanchez, 45, admitted to a reporter that he shot Kate Steinle last Wednesday, video of the interview showed.
"Did you shoot Kate Steinle on Pier 14?" KGO reporter Cornell Barnard can be heard asking Lopez-Sanchez, who was sitting across from him.
"Yes," Lopez-Sanchez replied.
Steinle, who was initially reported to be 31 but officials later said was 32, was walking with her father when a single gunshot struck her in the upper body, police said at the time.
"She just kept saying, 'Dad, help me, help me,'" Liz Sullivan, the victim's mother, told CNN affiliate KRON after the shooting.
Video showed several people attempting to help the woman after she fell to the ground, but her heart stopped twice on the way to a hospital and she died during surgery, CNN reported.
"She fought for her life," Sullivan said. "They said how strong she was, but they just couldn't save her."
Lopez-Sanchez was located about a mile away and arrested after several people on the pier took photos of the gunman and showed them to police, CNN reported.
Nearly a week later, Lopez-Sanchez told reporter Barnard that he had taken sleeping pills he found in a dumpster the night of the shooting and remembered few details.
When asked where he got the gun, he said he found it wrapped in a T-shirt.
"On the ground, over there on the bench. I moved my leg and see the one T-shirt, and then see over there something like that," Lopez-Sanchez told the reporter. "That's when I hear the boom, boom — three times."
He then kicked the gun into the bay, lit up a cigarette and walked away unaware that someone had been shot, Lopez-Sanchez said.
The alleged gunman had previously told investigators he was shooting at sea lions.
Lopez-Sanchez also said he felt sorry for Steinle's family.
"I'm feeling sorry for everybody," he told Barnard.
Some three months before the shooting, Lopez-Sanchez was detained by U.S. Immigration and Customs Enforcement officials after spending several years in federal prison for felony re-entry after deportation, CNN reported.
Federal law enforcement officials said he had previously been deported five times and they intended on making it six, but after turning him over to San Francisco officials who wanted Lopez-Sanchez on a drug-related warrant, he was set free.
ICE had requested an immigration detainer, but the city does not honor such requests if there is no legal cause to detain the person, Freya Horne, chief legal counsel to the San Francisco Sheriff's Department, told CNN.
Lopez-Sanchez was turned over the San Francisco authorities on March 26 and the drug-related charges were dropped the following day.
He was held until April 15 while the Sheriff's Department determined there were no other warrants for his arrest and he had completed his federal prison sentence.
"When Mr. Lopez-Sanchez was booked into the jail, there was no active Immigration and Customs Enforcement warrant or judicial order of removal for him," the Sheriff's Department stated.
According to KRON, San Francisco's policy on undocumented immigrants "states that a law enforcement official shall not detain an individual on the basis of a civil immigration detainer after that individual becomes eligible for release from custody."
But a federal law enforcement source told CNN the Sheriff's Department "didn't even need to hold him. They simply could have notified that they were going to release him and we would have gotten him."
His last deportation was in 2009.
When asked by the KGO reporter why he repeatedly returned to San Francisco, Lopez-Sanchez said he was looking for work.
"Because I was looking for the jobs in the restaurant, roofing or landscaping or construction," he said.
Lopez-Sanchez also said the court should give him the highest punishment so he can tell Steinle's parents in court he no longer wants to live, CNN reported.
KGO reported the station had reached out to Steinle's family, which did not offer a reaction to Lopez-Sanchez's interview.