This is an archived article and the information in the article may be outdated. Please look at the time stamp on the story to see when it was last updated.
A woman struck by a car in the Sawtelle area of Los Angeles Monday was identified as "The Bold and the Beautiful" actress Linsey Godfrey, according to the show's production company.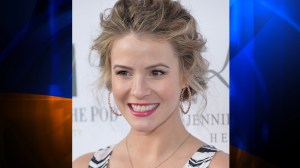 Godfrey was struck when two cars collided in the 11000 block of West Olympic Boulevard (map) at about 2:25 p.m. and one of the cars went onto the sidewalk, according to Officer Jack Richter of the Los Angeles Police Department.
Tuesday morning, Eva Demerijian of Bell-Phillip TV Productions confirmed "The Bold and the Beautiful" star was the woman struck in the crash.
Godfrey was pinned underneath the car but had been moved from the wreckage when emergency responders arrived, according to TMZ.
Godfrey was taken to the hospital with serious injuries, including at least one broken leg, according to Richter.