This is an archived article and the information in the article may be outdated. Please look at the time stamp on the story to see when it was last updated.
SAN QUENTIN, Calif. (KTLA) — Richard Ramirez, the convicted rapist and serial killer known as the Night Stalker, died of complications from blood cancer.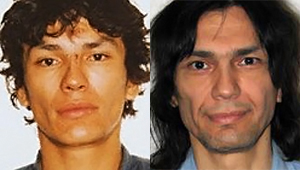 Ramirez, who terrorized Southern California in 1984 and '85 with a series of murders and rapes, died at Marin General Hospital on June 7, according to the California Department of Corrections and Rehabilitation.
On Monday, the Marin County coroner's office announced Ramirez died of complications related to B-cell lymphoma.
At the time of his death Ramirez had other significant conditions, including "chronic substance abuse and chronic hepatitis C viral infection," according to the coroner's report.
He was captured Aug. 31, 1985, after being identified and severely beaten by an angry mob in East Los Angeles as he was trying to steal a car.
Police had to break up the mob to prevent them from possibly killing Ramirez.
He was convicted Sept. 20, 1989, of killing 13 people and was awaiting execution on death row.
Ramirez was 53 years old.
Since 1978 when California reinstated capital punishment, 59 condemned inmates, including Ramirez, have died from natural causes, 22 committed suicide, 13 were executed in California, one was executed in Missouri; and six have died from other causes.
There are 735 offenders on California's death row.