This is an archived article and the information in the article may be outdated. Please look at the time stamp on the story to see when it was last updated.
Orange County Global Medical Center in Santa Ana was placed on lockdown for more than two hours as officials investigated a call regarding a man armed with a gun in the hospital, police said.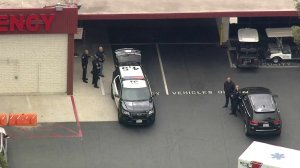 The lockdown was subsequently lifted just after 11 a.m. after the hospital was rendered safe following an intense search, according to Santa Ana Police Department Chief David Valentin.
Officers initially responded to the building, located in the 1000 block of North Tustin Avenue, about 8:15 a.m. after learning that the medical center had received an internal call regarding a man with a gun in the hospital, said Cpl. Anthony Bertagna.
The call, which apparently involved some type of threat, came from a portable phone inside the hospital, said Jeff Corless, who is with the Global Medical Center.
It was not exactly clear where the call was placed, and investigators were still trying to determine the individual behind it.
Police responded within four minutes and began systematically and methodically combing the floors of multiple building, as well as the basement storage facility and the roof, Valentin said.
Authorities did not locate anyone with a gun, nor did they receive reports of any injuries related to the incident, according to the police chief.
The incident police a large law enforcement response, Sky5 aerial video showed. A number of patrol vehicles were parked in the lot, while several armed officers could be seen walking just outside the hospital.
The Orange County Fire Authority and the Orange County Sheriff's Department also responded to the scene, and hospital security also aided in the search.
Tustin Avenue was temporarily shut down between 17th and First streets as authorities investigated.
KTLA's Jennifer Thang contributed to this report.