This is an archived article and the information in the article may be outdated. Please look at the time stamp on the story to see when it was last updated.
A man allegedly armed with some type of weapon who is accused of assaulting a woman while fleeing deputies was shot in Lake Forest Friday evening, authorities said.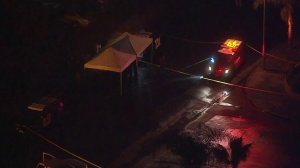 About 4:15 p.m.,  authorities were called out to investigate reports of a man wearing a costume mask who was holding a weapon and running outside the Walmart in Foothill Ranch, located at 26502 Towne Centre Drive, according to a news release from the Orange County Sheriff's Department.
By the time deputies responded, the man had left the location.
After that, dispatchers began receiving multiple calls regarding a man matching the person's description in a residential area near Angela Street in Lake Forest, the release stated.
In phone calls, residents described an individual "running around the street with a weapon, knocking on doors and yelling and screaming," said sheriff's Lt. Brad Valentine.
Deputies went to the neighborhood where they encountered the man and began chasing him. As they pursued him, the man entered a home and allegedly assaulted a woman inside, according to the Sheriff's Department.
Other deputies responded and located the man on the street near the corner of Kathy Avenue and Hoi Circle, which is about three miles away from the Walmart where the incident began.
At that point, deputies opened fire on the man, striking him multiple times, authorities said. The injured suspect was taken to a hospital in unknown condition.
No deputies were hurt.
Authorities have not said whether the woman was injured or if she was transported to a hospital.
It was not immediately known if the man still had a weapon at the time of the shooting. Investigators have also not disclosed what type of weapon he was seen with.
The incident is being investigated by the Orange County District Attorney's Office, which is standard protocol for deputy-involved shootings, according to the department.
No additional details were immediately released.
KTLA's Matt Phillips contributed to this story.