This is an archived article and the information in the article may be outdated. Please look at the time stamp on the story to see when it was last updated.
ONTARIO, Calif. — A persistent decline in passengers at L.A./Ontario International Airport has become so severe that the once-popular facility could reach a point where recovery would be almost impossible, Inland Empire officials warned Monday in a new report.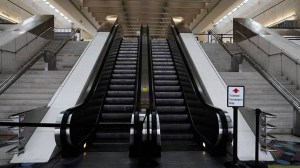 Touted by Forbes magazine several years ago as one of the best alternative metropolitan airports in the nation, Ontario lost almost 40% of its 7.2 million annual passengers from 2007 to 2012. A further 8% decline is expected this year, which would bring the volume of travelers to just under 4 million, the lowest in a generation.
If the trend continues, the number of annual passengers could fall below 2 million as early as 2020, say Inland Empire officials who are seeking to gain control of Ontario from Los Angeles. Such a decline would make the airport increasingly unattractive for airlines, reduce service for travelers and cost the region tens of millions of dollars in economic activity, the report says.
"Ontario's prospects of making a full recovery from a serious decline in passengers are daunting," it warns, "and the longer Ontario waits until game-changing solutions are implemented, the weaker Ontario's position will be at that time."
Click here to read the full story on LATimes.com.