This is an archived article and the information in the article may be outdated. Please look at the time stamp on the story to see when it was last updated.
LOS ANGELES  (KTLA) – Two teenage boys were shot, one of them fatally, Sunday in the Mid-City area of Los Angeles, authorities said.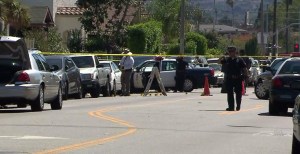 The drive-by shooting occurred about 11:30 a.m. in the 1400 block of Redondo Boulevard, Los Angeles police said.
Four gunmen "started firing shots from inside the car," LAPD Lt. John Radke said. "They struck two people out here on the street."
One of the boys was pronounced dead at the scene. Friends identified him at 17-year-old Charles Hall.
"I knew him since I was real young. I knew him since he was real young, you know," a friend of Hall's told KTLA. "It's sad, man. We both grew up around here together, went to the same schools together."
The second victim, identified only as Jesse, was shot in the leg. He was transported to a hospital where he underwent surgery and was expected to recover, authorities said.
Officers were searching for a silver or white four-door Nissan sedan believed to have been involved in the shooting.
Anyone with information was asked to contact the Los Angeles Police Department.