This is an archived article and the information in the article may be outdated. Please look at the time stamp on the story to see when it was last updated.
A search and rescue team member volunteer and schoolteacher was found dead Saturday amid the search for a 52-year-old hiker from Irvine who went missing near Mount Baldy nearly a week ago, authorities said.
San Bernardino County Sheriff John McMahon identified the fallen rescuer as Tim Staples, 32, who had been a volunteer with the department's West Valley Search & Rescue Team for nine years.
Staples also worked as a social science and English teacher at Damien High School in La Verne, according to the school.
Staples' Facebook page indicated he was married in June.
The death took place as members of a San Bernardino County Sheriff's Department Search and Rescue Team continued their search for the missing hiker into a seventh day.
"During today's search a SBSD-Search and Rescue team member became separated from his partner," the sheriff's department said in a written statement.
A Los Angeles County Sheriff's Department helicopter found Staples in an ice chute, McMahon said. A rescuer was lowered to the ground and discovered that Staples had died as a result of a fall.
The investigation into the details of the incident were under investigation.
Staples was among 126 search and rescue volunteers from 11 counties participating in the search on Saturday, McMahon said.
"Our search and rescue volunteers, as well as those from throughout the entire state, give of themselves and their time selflessly to try to rescue folks that become lost, and today is an example of what they're willing to give to try to help save some of the citizens who, unfortunately, get lost or get hurt in some of the most dangerous parts of our state."
"Our thoughts and prayers are with the family, and we make sure we do everything in our power to help them through this process, as well as the rest of our volunteers," McMahon said.
Mourners gathered at Damien High School for a vigil on Saturday night. A prayer service was planned for Monday at Damien High School, officials said.
"Tim Staples was a newly-married faculty member and a Damien class of 2006 graduate" Damien High School officials said in a written statement. "He was a favorite teacher among his students. Tim also coached track and field. He came to Damien after several years teaching at one of Damien's sister schools, St. Lucy's Priory High School in Glendora."
Resources were being summoned to help the school community, and especially students, deal with the tragedy.
"Our school will have a crisis intervention team of clergy and professionals trained to help with the needs of students, parents, and school personnel," the statement said.
"We are deeply saddened by this loss and will make every effort to support our students, faculty, and alumni during this difficult time," according to the statement. "We ask that our Spartan families and extended school community come together in prayer and support for Mr. Staples' family."
Current and former students of Staples took to social media to share memories of the beloved educator.
"Rip Mr. Staples, he was definitely the best teacher I've ever had," one student posted on Twitter.
"He was such an amazing man. He touched the hearts of everyone he met. Thoughts and prayers to his family," wrote another.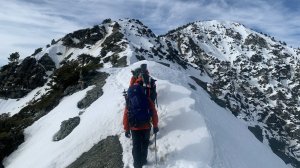 The week-old search operation for hiker Sreenivas "Sree" Mokkapati, 52, of Irvine, has been suspended, officials said.
"(Search and rescue) crews are being recalled from the mountain and search operations are being re-evaluated," the statement said.
Crews have been working in tough terrain, dealing with waist-deep snow, icy conditions and treacherous cliffs at elevations at around 7,000 feet, officials said. The mountain and surrounding area were closed to the public during the search.
The search operation began when Mokkapati became separated from his group and failed to return from a planned day hike.
I leave a compass at the memorial for our hero and SAR brother Tim Staples to remind us to stay the course that he set for us. "So that others may live". @LASDHQ @sbcountysheriff @WestValleySAR pic.twitter.com/L7lp9XPjfw

— Mike Leum (@Resqman) December 15, 2019
It is with an incredibly heavy heart that West Valley reports the passing of one of our own. Tim Staples passed away after a horrible fall that occurred during the active search in Mt. Baldy. We ask that you keep his family and friends in your thoughts and prayers. https://t.co/EHBgMjB2Vu

— West Valley SAR (@WestValleySAR) December 15, 2019
Rip Mr. Staples, he was definitely the best teacher I've ever had😔

— Ethan!🦆 (@EEramya) December 15, 2019
https://twitter.com/thyxq_/status/1206058929504931842
He taught me for a semester in high school. His humor and patience with all of us will be deeply missed.

— • Alejandra • (@amr3always) December 15, 2019