This is an archived article and the information in the article may be outdated. Please look at the time stamp on the story to see when it was last updated.
A rescue effort was suspended Friday after a blue whale was spotted in waters off the San Pedro coast, entangled in an apparent fishing line attached to a buoy, officials said.
A team from the National Oceanic and Atmospheric Administration on Friday responded about 2:45 p.m. to reports of a blue whale enmeshed in a fishing net in waters off San Pedro, a spokesman for the agency said.
The group, based out of NOAA's Marine Mammal Care Center at Fort MacArthur, set out for a location about 5 nautical miles south of Point Fermin, said A.J. Lester of the Los Angeles County Fire Department's Lifeguard Division.
Aerial video from Sky 5 showed showed the massive mammal periodically diving and emerging from the water, pulling what was possibly about 200 feet of fishing line and small buoy.
The entangled whale was first reported by a nearby whale-watching boat, which contacted Peter Wallerstein, a marine expert with Marine Animal Rescue, Lester said. Wallerstein, who was recently involved in the rescue of sea lion pups at Dockweiler Beach, in turned notified lifeguards and NOAA officials. They picked him up at a dock before heading out to the scene.
The team was transported by a Lifeguard Division's rescue boat, which searched the waters for at least an hour before finding the animal with the help of sightseeing vessels, said Fire Department Section Chief Erik Albertson. The rescuers then approached the whale in a motorized raft.
"They're trying to figure out how to get to the whale and free the line that is hanging from it, in the short time that the whale surfaces, which is infrequently," Albertson said. "The challenge is keeping everybody safe and keeping the whale safe."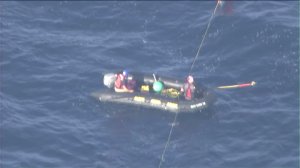 Shortly after 6 p.m., the operation was suspended due to "dangerous conditions," the Lifeguard Division said on Twitter, adding that "rescue efforts will resume when the whale is relocated" Saturday.
"The seas were rough. It was hard to get to the whale, but we were able to attach a buoy to the whale," Wallerstein said. "We didn't do any cutting. The whale didn't surface enough."
After attaching the buoy, rescuers planned to use it as a tracking device, Wallerstein said.
Lester said it was uncommon for whales to become trapped in fishing apparatuses.
"They're pretty good about avoiding those types of things," he said, noting that he was only aware of five or six such incidents in waters off L.A. County during his 12 years as a lifeguard.
Correction: An earlier version of this report misidentified the Marine Mammal Care Center and Marine Animal Rescue. The story has been updated.
More video: