This is an archived article and the information in the article may be outdated. Please look at the time stamp on the story to see when it was last updated.
Firefighters rescued a delivery driver Thursday morning who fell into a 50-foot hole and became trapped at a residential construction site in Beverly Crest.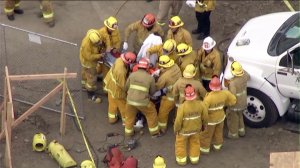 The 30-year-old driver arrived at the site in the 1600 block of San Ysidro Drive with a load of steel rebar at about 8:30 a.m., according to Los Angeles Fire Department spokesman Brian Humphrey.
When the driver exited his truck, he apparently stepped on some plywood that was covering one of several deep holes on the property.
The man crashed through the plywood, falling as many as 50 feet down the two-foot-wide hole, according to Humphrey.
Aerial video from Sky5 showed several firefighters gathered around the hole as they attempted to make contact with the trapped man, who officials initially identified as a construction worker.
Fire crews eventually lowered a radio and a harness to the man, and sent fresh air into the hole using a confined space ventilation system, according to Humphrey.
The man was in stable condition and never lost consciousness during the ordeal, Humphrey sated.
About 9:35 a.m., video showed the harnessed man being pulled out of the hole by a rope.
He was said to be in fair condition with several cuts to his head and face.
The man was immediately placed into a nearby ambulance and taken to a local hospital for further evaluation.
San Ysidro Drive was closed between Elderidge and Peavine drives during the rescue.