This is an archived article and the information in the article may be outdated. Please look at the time stamp on the story to see when it was last updated.
The El Niño rainstorm had already turned Nick Blom's almond orchard into a quagmire. Still, he wheeled open the lid of a massive irrigation pipe. Fifteen minutes later, a gurgling belch heralded a gush of water that surged over the lip of the pipe and spread across five acres of almond trees.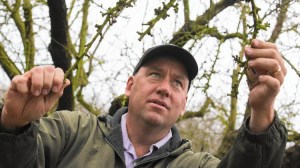 Blom is neither crazy nor self-destructive. He's a volunteer in an experiment run by UC Davis that could offer a partial solution to California's perennial water shortages, and in the process, challenge some long-standing tenets of flood control and farming in the Central Valley.
The first notion that could be washed away is that the abundant rains spawned by the El Niño currents in the Pacific Ocean should be banked behind new or enlarged reservoirs. Instead, researchers believe they should pour that water onto fields and let it replenish groundwater overdrafted by farmers and cities during the state's five-year drought.
That hypothesis, however, runs counter to how many growers care for their trees in winter, how irrigation districts operate, how water rights are managed, and how state and federal authorities have controlled floods for a century. Each will have to expand their notion of how to use water for the greater good so they can smooth out the state's wild swings between drought and abundance, researchers say.
Click here to read the full story on LATimes.com.