This is an archived article and the information in the article may be outdated. Please look at the time stamp on the story to see when it was last updated.
An Alhambra man shot and killed an intruder in his home Sunday night, police said.
Investigators on Monday continued piecing together the circumstances surrounding the deadly shooting, which took place about 11:20 p.m., the Alhambra Police Department said in a written statement.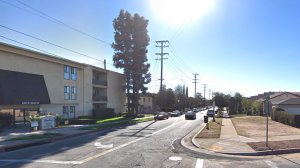 A man called 911, "stating someone had just broken into his home on the 600 block of South 6th Street and that he had shot the intruder," the statement said.
Responding officers encountered the resident, as well as another man who had been shot in the upper body, police said. Paramedics took the wounded man to a hospital, where he was soon pronounced dead.
Police described both the resident and the person killed as men in their early-20s. Their identities were not released.
Investigators found the gun believed to have been used in the shooting and seized it as evidence, Alhambra police Lt. Edward Elizalde said.
Detectives suspected the incident was related to a reported domestic dispute earlier in the night, according to the lieutenant.
Police had responded to the same home about an hour before the shooting after a neighbor reported hearing an argument between a man and woman.
"Officers determined this argument was verbal only. The couple agreed to separate for the night, with the female leaving for the night with a family member," the police statement said.
"It appears both calls for service are related, however, detectives are still conducting their investigation. There are no outstanding suspects and all involved parties have been identified."
The man killed in the shooting had some sort of association with the female resident who had left the home prior to the shooting, Elizalde said. It appeared he forced his way into the home before being shot.
Detectives were still looking into why the man went to the home, Elizalde added.
No arrests had been made Monday afternoon, Elizalde said. Investigators will ultimately present their findings to the Los Angeles County District Attorney's Office for review.
Anyone with information can reach Alhambra police at 626-570-5151. Tips may also be submitted anonymously to L.A. Regional Crime Stoppers at 800-222-8477.