This is an archived article and the information in the article may be outdated. Please look at the time stamp on the story to see when it was last updated.
All residents evacuated when the 15,000-acre Creek Fire took hold near Sylmar earlier this week were being allowed to return to their homes Friday evening after Los Angeles Fire Department officials announced that evacuation orders and warnings had been lifted.
Additionally, most of the road closures have also been lifted, according to an LAFD alert. The lone exception was Santiago Estates and Little Tujunga from Middle Ranch to Live Oak Campground, which was only open to those who live there.
While most of the evacuations had been lifted overnight, by Friday morning some residents told KTLA they were still waiting to find out how bad the damage was to their homes.
"I'm waiting to get back into my house," Kathy Sanborn said. "I understand there's been some damage to it, but I don't know how extensive. And I have been out since 5 o'clock Tuesday morning."
The wildfire broke out at around 3:45 a.m. Tuesday and burned through 15,619 acres before it was 70 percent contained as of Friday night, Cal Fire officials said.
A total of 105 structures were destroyed, including 56 homes, according to the latest update. Seventy structures were damaged, including 45 homes.
Along with the Skirball Fire in the Brentwood area, it triggered the closure of 265 schools across the Los Angeles Unified School District in the San Fernando Valley as nearly 2,300 firefighters battled the quickly growing blaze.
UPDATE: #CreekFire Acrerage 15,323 & Containment is now 40%. Please find info below regarding evacuations, evacuation centers, animal shelters & road closures. @LAFD @Angeles_NF @CAL_FIRE @LASDHQ @LAPDHQ pic.twitter.com/2UbH2moKSw

— L.A. County Fire Department (@LACoFDPIO) December 8, 2017
Prior to the roads reopening, some residents said the closures were making their homecoming a difficult one.
"Three days out of my house, I'm trying to get home," said John Rosas, who couldn't drive to his home due to a road blockage. "They got orders to not open it [the road] because there's a hot spot up there, they're saying."
Another local resident said he couldn't get into his neighborhood the night before and worries he won't be able to come and go later.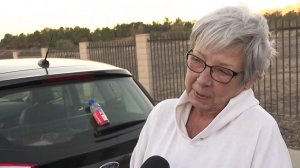 "We actually had to sneak in through this community last night," said Ted Villanueva. "And we're getting to leave this morning, but we don't know if we'll be able to get back in tonight."
Meanwhile, Sanborn said she didn't have much clothes or other necessities with her when she rushed out of her home to escape the approaching fire days earlier.
"I don't have clothes. I don't have things that I need," she said. "I have things that I probably wouldn't have left in the house if I hadn't been so panicked."
Even with the wildfire reaching higher containment, it is still expected to impact those living in areas such as Lake View Terrace, Shadow Hills, Sylmar, Santa Clarita, Glendale and Pacoima, officials said.
Conditions such as "high winds" and "steep, rugged terrain" have made the fire difficult to contain, Cal Fire officials said. And the Santa Ana winds in the area are expected to keep up strong gusts of 50 to 70 mph.
Gov. Jerry Brown declared a state of emergency in Los Angeles County due to the Creek Fire and nearby wildfires and President Donald Trump has declared an emergency in California, with federal assistance from the Department of Homeland Security and Federal Emergency Management Agency expected to go toward fire relief efforts.
Anyone needing information can contact the Creek Incident Information Line at 626-574-5208.