This is an archived article and the information in the article may be outdated. Please look at the time stamp on the story to see when it was last updated.
Residents in a Long Beach neighborhood were evacuated from their homes for hours Friday while police searched for a gunman who fatally shot a woman who was described by her sister as a mother of six.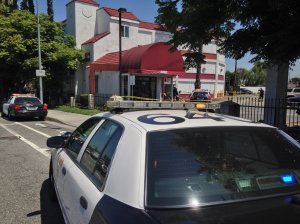 A SWAT team responded to home where the shooter was thought to be barricaded near the intersection of Long Beach Boulevard and Barclay Street. But about 7 p.m., police said the search had concluded and residents were allowed to return to their homes.
It wasn't clear if officers encountered any suspects during their hourslong search.
Officers were first called to the shooting just before 10 a.m. at a motel in the area of Long Beach Boulevard and Cambridge Street, Long Beach Police Department spokeswoman Nancy Pratt said.
Images from the scene actually showed police responding to the Luxury Inn, which is a couple blocks south of Cambridge on Long Beach Boulevard. The motel's entrance was cordoned off by yellow police tape.
Officers found a female who had been shot, Pratt said. She was taken to a hospital, where was pronounced dead.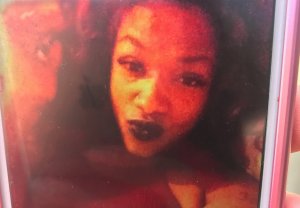 Lynette Washington, a mother of six children, was the shooting victim, according to a person who identified herself as the victim's sister.
Witnesses said the shooting occurred in a motel room on the third floor. One witness told KTLA she heard the gunshots then saw a man running out of the room, crying "They shot my girl."
"That's when I ran upstairs to try to render aid to the victim," said the witness, a motel guest who did not want to be identified. "I went to bend down to check her pulse, but there was no signs of life. She was gone."
It's not clear if the man seen by the witness was the shooter. Pratt described the gunman only as "male."
During the search for the gunman, a "containment area" was set up between Gordon to Allington streets and Long Beach Boulevard and the 710 Freeway, which includes a residential area of about five blocks. The evacuated area appeared to be within the Coolidge Triangle neighborhood.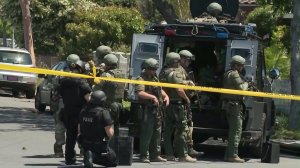 "Residents in the affected area are being evacuated to a nearby school that is NOT in session due to Spring Break," Pratt wrote in an email about 11 a.m.
About 11:30 a.m., the department sent out an alert warning of police activity for a homicide investigation near the shooting site -- "in area of Long Beach Blvd/710 and Barclay/Gordon." Police warned people to avoid the area or "remain inside ... until further notice."
Police activity in Long Beach Blvd/710 and Barclay/Gordon. Avoid area. Homicide investigation, remain inside resident until further notice

— Long Beach PD (CA) (@LBPD) April 21, 2017