This is an archived article and the information in the article may be outdated. Please look at the time stamp on the story to see when it was last updated.
Mentally and physically disabled residents of two adult care facilities in Los Angeles' West Adams neighborhood were subject to filthy conditions, punished for not attending church, locked out of their homes and made to sleep outside at night, according to a complaint filed by city prosecutors.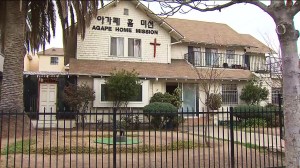 The lawsuit accuses Agape Mission House and Agape Home Church on South Hobart Boulevard of mistreating residents and "subjecting them to deplorable, overcrowded, unsafe and unsanitary living conditions" in violation of state law, according to a news release issued Tuesday by the office of City Attorney Mike Feuer.
"These residents are among the most vulnerable in our society and they were forced to live a daily nightmare," Feuer said in the release.  "We are bringing that nightmare to a close."
Individuals living in the homes — described in court documents as a site of violent crime where up to eight people shared a bedroom — were being relocated to licensed facilities after a judge appointed a receiver in the case on Feb. 14, according to the news release.
The operators of the homes, Kang Won Lee and Jung Hwan Lee, violated multiple health and safety codes, licensing regulations and landlord-tenant laws, according to the 61-page civil action, which alleges a litany of horrific conditions.
Filed Feb. 13, the complaint describes repeated inspections and enforcement actions taken against the facilities since 2010.
The homes, where trained staff qualified to assist residents with severe mental and physical disabilities were allegedly not provided, are near the First African Methodist Episcopal Church and multiple schools.
As many as 80 residents were living in the two facilities, the defendants told inspectors last year, according to the complaint. One facility was licensed for six residents, while the other was never licensed, the complaint states.
Los Angeles police received more than 180 calls for service at the two properties between January 2011 and October 2013, according to the complaint. The calls included 12 suicide attempts and multiple alleged violent incidents.
Residents in the homes were required to attend religious service twice daily, regardless of belief, the complaint states.
If they failed to do so, they were allegedly punished by being made to stand outside by a tree for up to four hours, translate Bible verses all day, or sleep outside.
Some residents also accused the homes' operators collect the tenants' county or federal benefits cards as rent at the beginning of each month, denying residents access to their own money, according to the complaint.
During an inspection, one bedroom had a beehive in it, flies were seen swarming in the kitchen and common area, and there was a bed bug infestation, the complaint states.
The lawsuit alleges the homes are a public nuisance and that the owners have violated California's unfair competition laws, false advertising law, health and safety codes, and the Community Care Facilities Act.
The defendants could be subject to penalties ranging from $2,500 to $7,500 for each act that threatens the health and safety of residents, according to Feuer's office.