This is an archived article and the information in the article may be outdated. Please look at the time stamp on the story to see when it was last updated.
Four workers had minor injuries Wednesday after a large explosion at an ExxonMobil refinery in Torrance that left ash cascading to the ground and South Bay residents briefly wondering if an earthquake had hit.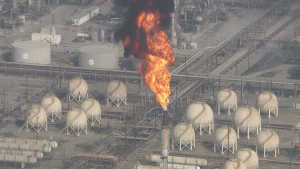 The blast at the refinery, which is located in the 3700 block of West 190th Street (map), occurred around 8:50 a.m.
It caused a small blaze on the ground that was quickly extinguished by some four dozen firefighters from Torrance and neighboring beach cities. Meanwhile, the refinery's flare system sent flames shooting hundreds of feet into the air as a safety measure, Torrance Fire Department Capt. Steve Deuel said.
"There was an activation of their flare system, which is a safety feature where you see a large column of black smoke, big flame in the sky. It's like a safety valve," Deuel said. "They typically will take the product that's involved … and route it up the stack and burn it off."
The fire occurred in a gasoline processing unit and was believed to have involved gasoline, Deuel said. Hours after the flames were out, it remained unclear what caused the explosion.
Air quality was within normal range, Torrance police said, but the South Coast Air Quality Management District issued a smoke advisory due to smoke and ash from the explosion. Residents who could see or smell smoke were advised to avoid outdoor exposure or activities.
The shaking produced by the explosion was equivalent to a magnitude-1.7 earthquake, a measurement taken by a nearby seismometer showed, according to geophysicist Egill Hauksson of Caltech. The impact was felt only the immediate vicinity, he said.
Nearby residents heard the explosion coming from the plant and reported feeling the ground shake. Several KTLA viewers described the shaking as feeling like an earthquake.
Several residents reported damage, including at one residence where a large flat-screen TV toppled and a window cracked. Vehicles and streets were coated in a layer of ash.
"It looks like it's snowing. … When people drive down the street, the ash just flies everywhere," said Amanda Hernandez, who has lived near the refinery for her whole life. "I've never seen it like this. I've never seen the ash like this."
A claims hotline for those impacted by the incident was set up by ExxonMobile: 844-631-2539.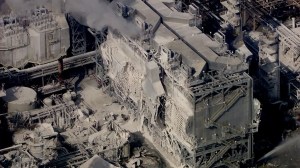 One large, multistory structure at the refinery was left partially collapsed, with twisted metal hanging from its exterior. Two vehicles in front of the building appeared destroyed, and the area was covered in white ash or foam.
It was not immediately clear if the white substance was from firefighting efforts or if it was a result of the explosion.
The damage appeared to be on a part of the sprawling refinery closest to busy Crenshaw Boulevard.
The incident was "stabilized," Deuel said shortly before noon. Firefighters could be seen still directing water onto the wreckage just after 1 p.m.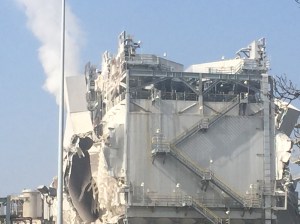 ExxonMobil did not confirm that an "explosion" had occurred on the Torrance Refinery premises, referring to it instead an "incident."
The company accounted for all personnel, according to a statement from Gesuina Paras, public and government affairs advisor for the ExxonMobil Torrance Refinery.
The four contractors who were injured were taken to Long Beach Memorial Medical Center for evaluation, according to Paras, who did not elaborate what type of injuries they had sustained. Three of the contractors were released and one remained under evaluation, Paras said about 3:30 p.m.
"Our top priority is the safety and health of our employees and neighbors," Paras' statement read. "We regret this incident and will work with appropriate authorities to conduct a thorough investigation of the cause. … We apologize for any inconvenience that this incident may have caused nearby residents."
An unnamed source told oil industry publication OPIS that an electrostatic precipitator exploded as workers were doing maintenance on a nearby fluid catalytic cracking unit, according to Reuters. The unit could take a year to replace, the source told OPIS.
The incident prompted police to shut down Del Amo Boulevard between Maple Avenue and Crenshaw Boulevard for more than five hours.
A temporary shelter-in-place order was lifted as of 11:45 a.m., but those in the area were being told not to use air conditioning. Thirteen schools in the area had been placed under the shelter-in-place order.
"It was just scary in the morning because we were just out at recess and then we heard this explosion," said Olivia Welch, a student at nearby Fern Elementary School. "Then our principal said that we were on lockdown."
The refinery covers roughly 750 acres, according to Exxon Mobil Corp. It processes an average of 155,000 barrels of crude oil per day and produces 1.8 million gallons of gasoline each year.
The units at the facility not impacted by the fire will continue to operate, Paras said.
Shares for Exxon Mobil Corp. dropped 2.19 percent in trading on the New York Stock Exchange Wednesday.
The ExxonMobil Torrance Refinery is one of about a half-dozen major refineries in the South Bay and Harbor Area.
For information on the Exxon Mobil explosion, please contact the Exxon-Mobil hotline at 310/505-3158.

— Torrance Fire (@TorranceFire) February 18, 2015
KTLA's Jennifer Thang contributed to this report.
More video: