This is an archived article and the information in the article may be outdated. Please look at the time stamp on the story to see when it was last updated.
Police are investigating a pair of home-invasion robberies, one in Los Feliz and another in West Hills, in which the intruders tied up the victims and ransacked their homes Wednesday night.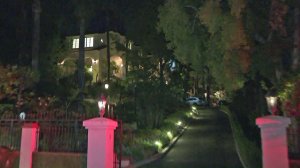 Two men forced entry into a home in the 4400 block of Cromwell Avenue possibly around 8:30 p.m., Los Angeles Police Department Detective Jeana Franco said.
Both men were wearing masks and used duct tape to tie up the residents before ransacking the home and taking off with "a lot of valuable property," Franco said.
The victims were not hurt, but were very shaken up by the robbery, Franco said.
Investigators were using surveillance images in hopes of identifying the intruders.
A second robbery occurred in the 22600 block of Hamlin Street in West Hills between 9:15 and 9:30 p.m., Sgt. Campbell said.
A woman in her 80s answered a knock at the door and two men forced their way in, Campbell said.
She was tied up with cords while the men ransacked her home.
The men took several belongings, including a cell phone and ATM card, which they tried to use at a bank a short time later, Campbell said.
The men fled the victim's home in a dark colored vehicle.
The victim called police after freeing herself and contacting a neighbor for help, Campbell said.
It was unclear if any weapons were used during the home invasions.
Investigators were trying to determine if the two robberies were connected.
KTLA's Alexandria Hernandez contributed to this report.