This is an archived article and the information in the article may be outdated. Please look at the time stamp on the story to see when it was last updated.
A man armed with a semiautomatic pistol hiding in the hills on the border of South Pasadena and Los Angeles prompted a police search and warning to residents on Tuesday.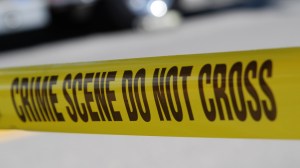 Police had set up a perimeter in the area of Collis Avenue and Hill Drive (map) amid a search for a narcotics suspect, according to Officer Wendy Reyes of the Los Angeles Police Department. The area is near the border of South Pasadena and the L.A. neighborhood of El Sereno.
Residents were warned to stay inside and lock their doors and windows, according to a news release from the South Pasadena Police Department.
LAPD had taken a suspect into custody, South Pasadena police announced on Twitter just before 3:30 p.m.
The man had been described by South Pasadena police as a Hispanic male, 6 feet tall, with a goatee and tattoos on his face. He was said to be wearing blue jeans and a brown-and-red plaid shirt.
Authorities had asked residents to immediately report any prowlers or suspicious activity to police.
KTLA's Jennifer Thang contributed to this report.