This is an archived article and the information in the article may be outdated. Please look at the time stamp on the story to see when it was last updated.
A 19-year-old UC Berkeley soccer player who disappeared early Saturday morning near USC was fatally struck by a car on the 10 Freeway, not far from where he was last seen, authorities confirmed Monday.
Eloi Vasquez was attending a party at the Tau Kappa Epsilon fraternity house in the 600 block of West 28th Street (map) when he told his friends that he wanted to take a walk at about 1:30 a.m.
Vasquez never returned to the party, but did make a phone call to a friend in Berkeley, according to his mother, Wendy Margolin.
"He was telling her he was in trouble and scared and lost and didn't know where he was," Margolin said.
After his disappearance, family members offered a reward of $100,000 for information leading to his whereabouts. He had no money or identification with him when he disappeared, according to LAPD.
On Monday, his uncle told KTVU that Vasquez's body was found on a freeway on ramp roughly three blocks from the University of Southern California campus.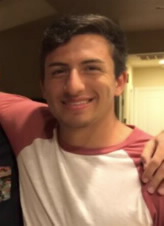 Shortly after that report, the Los Angeles Police Department confirmed that the coroner's office had identified a pedestrian who was struck on the eastbound 10 Freeway about 2:30 a.m. Saturday as Vasquez.
"The family is understandably very distraught and has respectfully asked for privacy," the LAPD release stated.
Vasquez was a midfielder freshman from San Rafael, where he graduated from private Marin Academy, according to his bio page on the Cal athletics website.
Berkeley head soccer coach Kevin Grimes spoke at an afternoon news conference, saying Vasquez was bright, mature for his age and close to fellow players.
"I really loved Eloi, and I know our teammates did too," Grimes said. "We're grieving pretty hard right now. We're in deep shock."
He maintained a 3.35 GPA in his first semester, which is the most difficult academically for players, said Grimes, who recruited Vasquez to Berkeley. Though he was only at the school for a little over a semester, Vasquez had a "huge" impact, Grimes said.
His senior teammate Alex Mangels said Vasquez's love for his family and for soccer were evident.
"He pushed everyone to do their best and to be a better player, and he had a tremendous work ethic that was matched by a hardly anybody," said Mangels, his voice cracking. "He always had a way of making you laugh. He brought energy to the room every time he was with us."
Vasquez died on the scene of the early Saturday morning crash on the eastbound 10 Freeway, according to the California Highway Patrol. His body was not identified until Monday, a coroner's official said.
The teen was running across lanes of traffic when a 45-year-old Highland Park woman spotted him but was unable to avoid him, a brief CHP news release stated. Her 2009 Chevrolet Impala was going about 60 mph when it struck him in the No. 4 lane, where he was pronounced dead.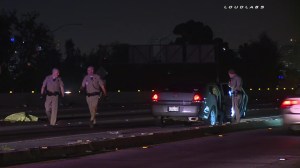 "We don't know why he was up on the freeway, we don't know how he got there, if he was dropped off or if he walked up an off ramp," CHP spokesman Edgar Figueroa said.
Video taken by a freelance news photographer at the scene of the early morning crash showed Vasquez's body covered by a yellow sheet on the freeway. A CHP officer could be seen speaking to a woman inside the stopped Chevy.
Coroner's office Assistant Chief Ed Winter said Vasquez's body was positively identified using fingerprints from his driver's license. A full autopsy will be done, Winter said.
"It was very tragic and our condolences go out to the family," Winter said.
I'm devastated, R.I.P ELOI VASQUEZ, a friend, brother, teammate, we tried our hardest for you. We love you, and will cherish life for you.

— Chris Argueta (@Chris_Argueta) March 30, 2015
Video: