This is an archived article and the information in the article may be outdated. Please look at the time stamp on the story to see when it was last updated.
Los Angeles police on Tuesday announced a $50,000 reward for information leading to the arrest of a man suspected of running his ex-girlfriend off the road and fatally shooting her in Sylmar earlier this year.
Eloise Elizarraraz, a mother of three children, was driving to work on Jan. 7 when she was killed, according to the Los Angeles Police Department.
Elizarraraz, 34, was found shot to death inside her BMW in the area of Harding Street and Tripoli Avenue just before 9 a.m., the Los Angeles Times reported.
She died at the scene.
Detectives have identified the suspect in the case as Jose Benjamin Rodriguez, the victim's ex-boyfriend and father of her youngest son.
Elizarraraz and Rodriguez had what LAPD Detective James Fillmore described as "a portentous relationship filled with jealousy and violence."
The victim had recently informed Rodriguez of her love for another man, according to Fillmore, who spoke at an early afternoon news conference announcing the reward.
"That angered him a great deal; so much so that he traveled from South Los Angeles up to the Sylmar area and waited for her for several hours until she left the residence that morning," he said.
Rodriguez is suspected of pursuing her in a vehicle that was stolen and running her off the road, before he allegedly shot and killed her, according to Fillmore.
Investigators later located the car in Mexico, just south of the border, the detective said.
Rodriguez has not been located.
According to Fillmore, the suspect is a gang member with a long history of domestic violence and assaulting women. He was believed to have been incarcerated on drug charges in November, and was apparently out on bail, the detective said.
"This is a very dangerous man," he said.
Shortly before her death, Elizarraraz had been hired to work as a dental assistant, which was where she was headed when she was fatally shot.
"She had just secured the job as a dental assistant in the Sylmar area to support herself, and her family and her three young children," Fillmore said. "She also had three additional children she helped raise."
A GoFundMe page was set up after her death to pay funeral costs and help out her children financially.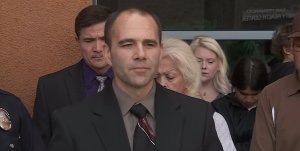 The victim's mother described her slain daughter as "a beautiful woman inside and out. It's sad that she had to leave three children behind. Three beautiful teenagers."
In an emotional plea, the mother asked for someone to come forward and help police.
"All I'm asking is for someone to please help police to put this man away before he hurts someone else," she said, visibly holding back tears. "My grandchildren need some peace."
Police are hoping the $50,000 reward may convince reluctant relatives or those close to the suspect to provide information that will lead to his location and arrest, according to LAPD.
Anyone with information is asked to call Detective Fillmore at 818-374-1929. During non-business hours and weekends, calls can be directed to 1-877-527-3247.  Those who would like to leave a tip anonymously should contact L.A. Regional Crime Stoppers at 1-800-222-8477, or visit the website www.lacrimestoppers.org.
Tipsters can also go to ww.lapdonline.org, and click on "Anonymous Web Tips" under the "Get Involved-Crime Stoppers" menu to submit information.