This is an archived article and the information in the article may be outdated. Please look at the time stamp on the story to see when it was last updated.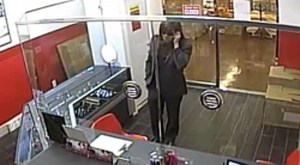 LOS ANGELES (KTLA) — Police announced a $25,000 reward Monday for a man sought in a series of robberies dating back to December 2012.
The man was believed responsible for 15 robberies targeting remittance companies that specialize in money transfers to the Philippines.
The bandit entered businesses disguised as a woman, wearing a wig and sunglasses.
As he approached the employees, he pulled out a handgun, ordered them to the ground and demanded money and jewelry, according to an LAPD news release.
The robberies occurred in the cities of Los Angeles, Glendale, West Covina, Rancho Cucamonga, and Chula Vista.
The bandit was described as Asian, 25 to 30 years old, 5 feet 9 inches tall, weighing 160 to 180 pounds and wearing a blond or black shoulder-length wig.
He was driving a BMW SUV possible "X5," beige or light-colored.
Anyone with information was asked to contact LAPD detectives at 213-486-6840.
Tipsters may also go to LAPDOnline.org, click on "webtips" and follow the prompts.