This is an archived article and the information in the article may be outdated. Please look at the time stamp on the story to see when it was last updated.
An 8-week-old puppy remained in critical condition Wednesday after being found with second-degree burns in Pomona, according to an animal rescue organization.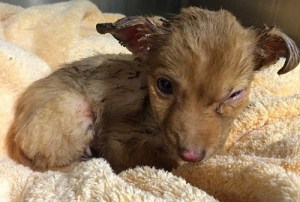 The Chihuahua mix, which has since been named Rocket, was discovered Monday by a resident who heard whimpering in an alley behind his home in the 900 block of Loma Vista Street, the Inland Valley Humane Society & SPCA said in a statement.
The dog yelped in pain after being picked up by the good Samaritan, who then realized that Rocket was injured and "smelled of burnt flesh," the news release said.
The animal was rushed to the Inland Valley Humane Society & SPCA in Pomona. Veterinarians at the shelter treated him and determined he had second-degree burns over much of his body.
"The dog's hair was singed and there was visible damage to the skin," the statement said, adding that no collar, identification tag or microchip was found on him.
He was transferred to the VCA Central Animal Hospital in Upland, where he was being cared for Wednesday evening.
 "It's always hard when we have cases like this. Your heart always goes to the animal," said Angela Toth, a supervising technician at the animal hospital. "For what he's gone through, he seems like a happy little puppy."
The Inland Valley Humane Society & SPCA was investigating the incident, which it described as "a deliberate act of animal cruelty," and has offered a $5,000 reward in the case.
Anyone with information was asked to contact the Inland Valley Humane Society & SPCA via email at info@ivhsspca.org or by phone at 909-623-9777.
Information on how to donate to Rocket's care is available online at ivhsspca.org/HelpCareForRocket.