This is an archived article and the information in the article may be outdated. Please look at the time stamp on the story to see when it was last updated.
Rewards totaling $75,000 were being offered Tuesday in the shooting death of 1-year-old Autumn Johnson in Compton one week ago.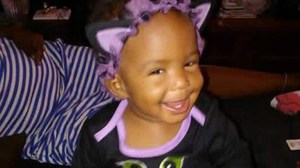 Compton Mayor Aja Brown and the city council authorized a $25,000 reward on Tuesday for information leading to the identification, apprehension and conviction of any person or persons responsible for the death of the child, according to a news release from the city.
Brown also announced that Los Angeles County Supervisor Mark Ridley-Thomas and the FBI both planned to match the city's reward.
The little girl, who had just celebrated her first birthday, was in her crib when she was struck in the head by a bullet around 7 p.m. on Feb. 9, sheriff's investigators said.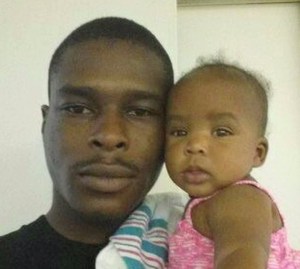 When deputies arrived at the converted garage apartment where the family lived on North Holly Avenue, they found the girl's father holding her in his arms and crying.
Deputies rushed Autumn to the hospital where she was later pronounced dead, according to a news release from the Sheriff's Department.
The shooting appeared to have been gang-related, according to the Sheriff's Department.
"It looks like they targeted a person, and they didn't shoot the house, they shot into the garage. So they were obviously targeting whoever's living in the garage," said sheriff's Lt. John Corina.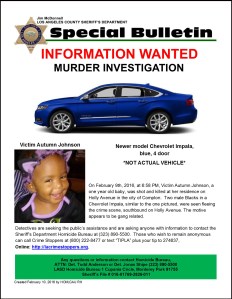 Homicide detectives released a bulletin identifying the suspects as two male blacks who were seen fleeing the shooting scene in a blue, newer model, four-door Chevrolet Impala.
Anyone with information about the deadly shooting was encouraged to contact the Sheriff Department's Homicide Bureau at 323-890-5500.
Anonymous tips can also be left by calling Crime Stoppers at 800-222-8477, texting the letters TIPLA plus a tip to 274637, or by using the website http://lacrimestoppers.org.