This is an archived article and the information in the article may be outdated. Please look at the time stamp on the story to see when it was last updated.
Pop star Rihanna's Hollywood Hills home was burglarized Tuesday night for the second time in recent months, according to the Los Angeles Police Department.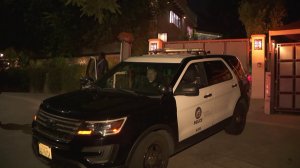 Authorities were alerted of the incident in the 7800 block of Hillside Drive by representatives of the singer, who has a sophisticated surveillance system set up in her home, LAPD Capt. Cory Palka said.
Rihanna was not home at the time of the crime, but was notified.
It is unclear what was taken, but the home did sustain minor damage, Palka said. He indicated there was more than one person involved and they got away in some sort of vehicle. He said investigators have "solid evidence" and will continue to investigate the crime.
This is the second time the singer and actress' home has been broken into in recent months.
A 26-year-old man has been charged with burglary and stalking after allegedly breaking into the home on May 10 and staying inside for 12 hours. Rihanna's assistant found Eduardo Leon and alerted LAPD, who used a taser to take him into custody.