This is an archived article and the information in the article may be outdated. Please look at the time stamp on the story to see when it was last updated.
HUNTINGTON BEACH, Calif. (KTLA) — Seven people were arrested in Huntington Beach Sunday night after rioting broke out at the close of the U.S. Open of Surfing.
The Huntington Beach City Council initially reported that eight people were arrested.
However, on Monday police confirmed that nine people had been taken into custody, but only seven had been arrested.
Michael John Lytle – Anaheim 30 years old – disorderly conduct and resisting arrest
Andres Gomez – Huntington Beach 24 years old – refusal to disperse and resisting arrest
Michael Anthony Avila – Santa Ana 28 years old – resisting or delaying a police officer
Joseph Minterrosa – Ontario 28 years old – disorderly conduct and resisting arrest
Adam A Cecot – Irvine 18 years old – refusal to disperse/unlawful assembly
Chase Scott Christian – Simi Valley 19 years old – vandalism (over $400), urge destruction of property, refusal to disperse/unlawful assembly
Kyle Roger Crott – Riverside 18 years old – assault with a deadly weapon on a police officer, resisting arrest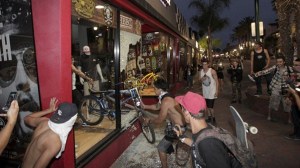 The violent behavior erupted around 7 p.m. at Main Street and Pacific Coast Highway near the Huntington Beach Pier
Officers were trying to disperse crowds after the end of the event.
It remained unclear exactly what prompted the violence to start.
The unruly crowd broke windows, pushed over portable toilets and damaged city signs and vehicles, Huntington Beach police said.
Some people were throwing bottles and others were fighting, and at least one store was looted.
Video posted to YouTube shows people ripping down a stop sign and using it to shatter the front window of a bike shop.
Somebody stole a bike before others in the crowd persuaded the looters to stop, witnesses said.
"It really started when a ketchup bottle came from the top story of a bar and exploded," witness Kyle Calder said.
"Kid didn't know what to do with it, threw it into the crowd. Couple more fights broke out. That's when the cops came, and everything went mayhem from there."
Huntington Beach police had to call in help from neighboring police departments.
Officers dressed in riot gear used tear gas and rubber bullets to get people to disperse.
"We couldn't even see. We were like on the ground hiding behind plants and stuff," witness "Allie" recalled.
"The cops were like hitting people and they had like rubber bullets and they shot some guy in the face like right in front of us," she said. "We were just sprinting down Main Street."
By about 9:30 p.m., police had finally gained control of the crowd. Several officers were injured, but none seriously, police said.
At least one of the arrests was for assaulting a police officer, officials said.
Police urged anyone with video or pictures to email them to hbpdfiles@gmail.com. You can also call the police hotline at 714 375-5066 with any information.
Police were asking anyone who may have pictures or video of the chaos to turn it in to authorities they can track down those responsible.